The NWR staff battled it out to determine what games were the best of 2018!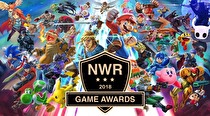 It's that time of year again. The Nintendo World Report staff had to get together and fight over what games they felt were the most deserving in 2018.
The process behind it all was fairly simple. The staff came up with a list of what deserved to win in a number of categories. Then after about two weeks we all got together over a voice call in order to argue it all out and fight for the games we are passionate about. For those interested the entire recorded debate is available for our Patreon supporters.
The list is also a little late, by some standards, releasing publicly in 2019 because we felt every game in 2018 deserved a fair shake at things. We felt this was especially important because cool new games kept releasing for the Switch up until the last minute.
Also, just so there is no confusion, Runners Up in each category aren't ranked in any specific order. They are just titles we thought were also worth mentioning.
So without further explanation here are NWR's 2018 Game Awards!