by Donald Theriault - 8:25 am PDT
Discuss in talkback! Source: Video Games Chronicle
Somehow, this can all be blamed on this alleged character named "Waluigi".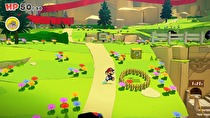 The producer of the Paper Mario series has outlined some of the restrictions placed on the series in a new interview, including how existing Mario characters can be used.
Speaking to Video Games Chronicle, Kensuke Tanabe confirmed that the Paper Mario games require new villains because existing... Read more...