by Carmine Red - 12:10 pm PDT
Total comments: 2 Source: The Wall Street Journal
The Wall Street Journal suggests that Nintendo is both managing possible tariff expenses and planning new hardware revisions.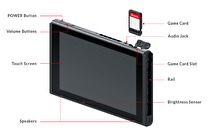 Nintendo has moved some of their manufacturing for the Nintendo Switch console outside of China to Southeast Asia, according to Wall Street Journal sources from the videogame company's supply chain. The Journal's sources are also claiming that additional models beyond the current Switch version are being manufactured outside of China as well.
Read more...