by Donald Theriault - 9:08 am EDT
Discuss in talkback! Source: Nintendo
That whole "global pandemic" deal has set the schedule back, but New Horizons will truck on.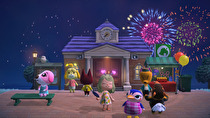 The next Animal Crossing: New Horizons update drops this week, and Nintendo has publicly committed to more.
An update will be available tomorrow (US time) that will bring back weekly fireworks shows and add new seasonal items. Additionally, Nintendo of America tweeted the below:
Read more...