This bird is on fire!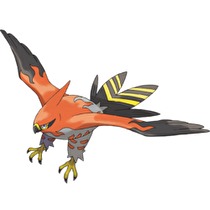 Each generation presents a unique problem: I need a Pokémon that can use Fly because screw this walking crap. But it usually ends up coming down to a question of which flier do I hate the least? That's not true for every flying Pokémon each generation, but for most, I was pretty impartial to my mode of transportation. I could have picked some better Pokémon for my designated driver, but I didn't want to waste my limited move slots on someone really awesome just to have Fly, so generally I just picked a Flying type I didn't hate and rolled with it, beefing it up into a speed demon with a couple of good moves.
I had this problem until Kalos gave me a new staple for my team. Talonflame is fast, it's a Fire-type (which we know I favor by now), it flies, and I don't even have to switch it out when it comes time to switch to breeding mode. It's the best bird ever! The only real drawback is that I can't keep Talonflame and Charizard in the same battling team, otherwise I will have a real problem with Rock, Water, and Electric-types.