Trick-or-treating forever.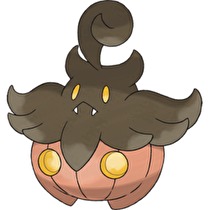 To me, Pumpkaboo is the essence of Halloween and the fall season. Just look at this guy, it's a flying jack-o'-lantern! There is just something about this Pokémon that I really love. Maybe it just brings back all those good Halloween memories I had as a kid. Whatever it is, I'm extremely drawn to it.
One other thing that makes Pumpkaboo especially cool is that is can be caught in game in four different sizes. It comes in small, average, large, and super sizes. These different sizes do affect its in game stats in various ways.
I also like Pumpkaboo for a more imaginary reason. These days, during the fall, pumpkin flavored everything seems to be really popular and, honestly, I love it. I can't get enough pumpkin garbage that is out there. So when I see Pumpkaboo I often imagine that it will be able to vomit pumpkin pie filling and cry tears of pumpkin spice coffee for me to enjoy. If this were true, why wouldn't I want to travel around with this friendly ghost that produces tasty treats? Yummy.
It may not be the best Pokémon out there in terms of ability, but it certainly is one that fills me with nostalgia and joy. And who knows, maybe one day the Pokémon Company will reveal that yes, Pumpkaboo is great at making snacks for its trainers too.