We share our thoughts on our favorite Pokémon in the entire series.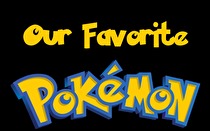 This year the Pokémon franchise is celebrating its 20th anniversary. For the last two decades the Pokémon developers have added over 721 unique characters to the mix all with their own unique abilities, moves, traits, and more. Some of these creatures have risen to the top of the pack to become our favorite Pokémon in the series.
In this Feature we will share with you some of our favorite Pokémon in existence and explain why they are so special to us. We will even add more to this Feature throughout the year. So get ready to see what Pokémon are the favorite among the NWR staff.
Did one of your favorite Pokémon miss our list? Let us know what your favorite Pocket Monsters are in the Talkback thread below.