A starter Pokémon with a big mouth.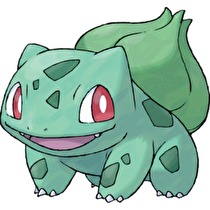 Bulbasaur, the cutest of the original starters, is the shit. Imagine having a low-maintenance plant that was also a dog. That's Bulbasaur. This adorable little turd has the biggest mouth of the Kanto starters, giving it the biggest smile. Ash's Bulbasaur was always friendly, acting as a mediator between arguing Pokémon and a healer to hurt Pokémon. It also had a Tickle attack! Is that not adorable?
Evolve that moldy turtle a couple times and you've got a real monster on your hands. Mega Venasaur is my favorite Pokémon to battle with. It has strong Defense, Special Defense, and a frustrating ability that most people at my level don't consider: Thick Fat. Thick Fat halves damage from Ice-type and Fire-type moves, but the game still calls them "Super effective." This isn't a great strategy, but it breaks the opponent's soul. Partner that with Rest, Sleep Talk, Petal Dance, and Sludge Bomb, and I've just given away my entire strategy. Well shoot.