A king in Matt's eyes.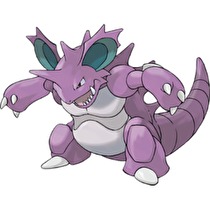 My affection for Nidoking was pretty much a "love at first sight" type of thing. The dude just looks like a badass, all purple, spiky, and scowling. Not to mention it combines two of my favorite types into one creature (Poison and Ground), giving it a plethora of great moves to take down opponents. It also has, in later games, the ability Poison Point, which has a 30% chance of poisoning a foe when attacked by a physical move.
I also specifically remember Nidoking being incredible useful in my original playthrough of the Red version because it could learn a wide variety of different typed attacks from TMs and HMs. And it, in fact, still can. Moves like Ice Beam, Thunderbolt, Shadow Ball, and Fire Blast, which you wouldn't normally associate with a Pokémon like Nidoking, are all moves that can artificially be added to his arsenal.
I was never one to get deep into competitive play, so I'm not sure how he fares in that department, but when it comes to being super useful in the main game, and looking like a badass, you can't do much better than Nidoking.