A future telling bird.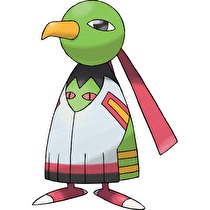 One of my favorite Pokémon is one that people hardly ever use in-game, Xatu. Its moveset isn't that impressive compared to other birds, plus its not like the game helps you out finding Xatu as it's hardly in abundance in wild areas. But ever since Gold and Silver came out, Xatu has been my favorite Pokémon. I guess in the end, much like myself, both Xatu and I are easy to overlook, but are pretty awesome once you get to know them!
For one, Xatu's moveset is constantly improving. It wasn't much in Ruby and Sapphire, but in recent generations, Xatu's garnered some great movesets and abilities. One of its Dream Abilities is Magic Bounce, which allows it to block big time important status inflictors like Will-O-Wisp and Toxic during battle. With other powerful moves such as Signal Beam, Psychic, Drill Peck, and a good recovery move like Roost, Xatu's status as a lame duck Pokémon in battle continues to change, and someday it might even be a powerful ally when it comes to big time battling competitions!
Also, it looks cool. I know that's a trivial note more than anything, but come on! One of the biggest reasons why we choose a favorite Pokémon is because of its look. The folklore behind Xatu is that it is able to see the future. It being a Psychic/Flying type Pokémon, it faithfully resembles a bird that might be able to see what the future holds for all of us. With designs on its chest resembling a totem pole, the condor-esque Xatu stands out in a sea of bird Pokémon with its unique look and mystique.
Xatu isn't anyone's conventional Pokémon of choice when it comes to pretty much anything. There are better Pokémon out there to train, and there are so many Pokémon species that it seems like it wouldn't make many people's top ten lists. But I will always hold a special place for Xatu. It's cool design and its continually improving moveset makes it a Pokémon you should always keep an eye on.