Scyther! Scythe scythe scythe!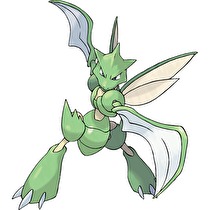 Scyther, sometimes called "Tracey's only redeeming factor," is a badass ninja-bug with scythes for hands. All of Scyther's Pokédex entries are about its speed or murder. Add in Red exclusivity and you have the coolest Pokémon of Gen 1. Scyther's high Speed and Attack stats make him a great Pokémon to get in some quick damage. Getting a STAB (Same Type Attack Bonus) from Flying and Bug moves can be super helpful, especially when paired with his Technician ability. Technician boosts weak attacks to make them more powerful. This makes Scyther's most important move, False Swipe, super useful. False Swipe will leave a Pokémon with at least 1 HP, and Scyther's high Speed, Attack, and Technician, will get you closer to that 1 HP than you thought possible. A Scyther with False Swipe should always be at the front of your team when exploring an area that may have Pokémon you want to catch. U-turn, a Bug-type move, can switch Scyther out while causing decent STAB damage if you run into something you want another Pokémon to deal with.
I always thought Scyther was pretty cool. A long time ago I even bred myself a perfect Scyther. This Scyther was the first Pokémon I ever got to level 100 without the Missingno. glitch. I brought this Scyther with me to each new region, its False Swipe tearing through every new Pokémon and making them easy to catch. As I was nearing a complete Pokédex, I needed a Scizor. I evolved my baby.
Scizor is a slow piece of trash that loses its Flying STAB and gains a double-weakness to Fire. Don't make the same mistake I did.