Yes, this Pokémon is a chandelier.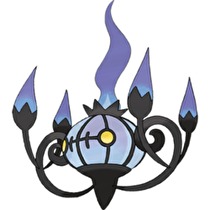 When Black and White released in Japan, I was watching the information come out about the new Pokémon thanks to DS games being cracked wide open. When Chandelure was first shown, my jaw hit the floor. The Special Attack was THAT high? And it can have Shadow Tag, the ability that means whatever faces it is going to die? GIVE THIS TO ME.
As it turns out, I never got one with Shadow Tag (legally… but I've said too much), but Black and White was also the game where I first tried mono-type running the games with the Fire type. And despite showing up pretty late in the run, Chandelure was the MVP. It has just enough move variety to not have to switch out of anything, and when it hits, things faint. Plus, it's a soul sucking chandelier with the biggest grin on its, uh, face.
I can't wait to get my hands on Pokkén next month so I can take all the rats that infest the game and burn them to cinders at the light bulb of my mighty ghost. If Hawlucha's not going to show up, there's not going to be a luchador in this game at all once I'm done with it.