Two Pokémon who could probably battle Japan's finest.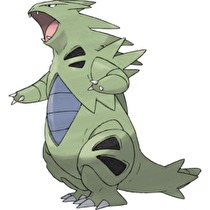 I'm writing about these Pokémon together because I see them in the same light: Pokémon that could be kaijus and fight Godzilla (if they were several dozen stories tall). Tyranitar even looks a little like Godzilla and can learn Hyper Beam, which I imagine is equivalent to Godzilla's atomic breath weapon in Godzilla vs. Destroyah. With Stone Edge it could put the hurt on any other kaiju like Mothra, Varan, and Rodan. Its Dark attributes might be able to deal with Space Godzilla's psychic attacks, or at least disable its telekinesis. Mega Tyranitar looks silly but I can see it being some kind of "final form" a la "Monster X" in Godzilla: Final Wars.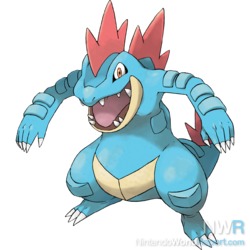 Feraligator (note proper spelling) is similar, although as a straight Water type, it would be weak to Titanosaurus (Terror of Mechagodzilla) and, I assume, Baragon (Grass type?). However, assuming Godzilla himself is a Fire or Fire/Dark type, he would be able to get a few solid hits in with Hydro Pump, Surf, and Aqua Tail. Feraligator does not Mega Evolve (yet), so it might not hold up so well against a Mega Evolved Godzilla (Godzilla vs. Destroyah). It is notable, however, that Feraligator would be one of the few "big mouth" monsters in the Godzilla universe—Biollante and Orga are the only ones that come to mind. I'm sure Feraligator could do some damage with Crunch.
You may be wondering why I'm not considering Aggron for this list. Well, it's because I think Agron looks real dumb. However, Aerodactyl/Mega Aerodactyl would be a good replacement for Rodan/Mega Rodan (Godzilla vs. Mechagodzilla II), and I think Garchomp/Mega Garchomp would be a cool kaiju. Rayquaza/Mega Rayquaza could be an interesting alternate for King Ghidorah/Mega King Ghidorah, at least until they give Hydreigon a Mega Evolution.
It's possible that this is the nerdiest thing I've ever written.