One badass bug.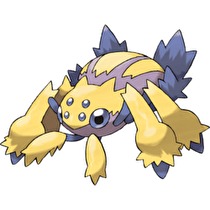 I tend to care more about what the Pokémon can do as opposed to what they look like, partially because I spent most of my time as a competitive Pokémon battler sending commands to an IRC bot instead of seeing them on a handheld screen. I do have some soft spots though, and Galvantula has one of my favorite combinations of looking bad-ass and being a beast in battle.
A giant electric tarantula, Galvantula will show if it's ready to rock when you run into it – if it doesn't flash an ability, it's packing Compound Eyes, which gives a big accuracy buff to moves that need it. One of those moves is the powerful yet totally unreliable Thunder, which would be my favorite move to use if it didn't miss every single time I needed it. Galvantula fixes that problem masterfully.
People give Black/White and X/Y flak for introducing the Vanillite family and Klefki, but their hit ratio is higher than anything before it. Especially Red/Blue/Yellow. Galvantula is just the tip of the iceberg.