That's right!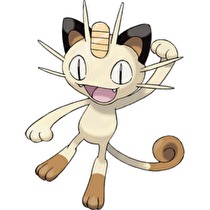 I love Meowth. I love the generic ones you can catch in the wild in many Pokémon games. I love the perpetual underdog (uh, cat) that completes the Team Rocket trio in the Pokémon animated series. After all, who doesn't love cats, especially here on the Internet?
The in-game Meowth carries many factoids and connotations surrounding cats in Japanese culture; they're attracted to all things round, they collect random objects, and they're known for inviting wealth.
Perhaps modeled after the maneki neko, a popular luck charm in Japan that is said to bring good fortune to those who display them in the entrance of one's house or business, Meowth has two very useful traits. Meowth's Pickup ability will randomly collect items for its trainer outside of battle, including Ultra Balls, rare stat boosting drinks, TM discs, evolution items, and even valuable Nuggets.
In battle, Meowth can learn the Pay Day attack. While only a 40 attack power stat, it has 100% accuracy and generates money each and every time it's used, providing the Pokémon's trainer with a secondary source of income along the course of his or her adventure. It's interesting to note that the Japanese name of the attack is neko ni koban, which is an actual Japanese proverb that means "a gold coin for a cat." Like "pearls before swine," this saying references giving a gift to someone who does not know its value and cannot appreciate it.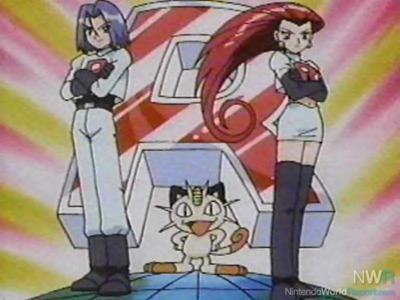 In the anime, Team Rocket's Meowth has perhaps the most fleshed out back story of any of the main cast members. As a kitten Meowth lived in poverty, scrounging for food with a gang of alley cats until he was smitten with a debutante Meowth owned by a rich old lady. The female rejected him for being poor and ordinary, so to impress her he did the logical thing; he taught himself to speak like a human.
Out of his own sheer grit and determination, he defied nature, evolution, and his species' incapability for phonetic articulation all for the affection of a damn girl, and that's possibly the most hardcore thing anyone has done in the history of the TV series. She then rejects him again stating that he's a freak, and like many heartbroken men, he turns to a life of crime.
Being one of very few Pokémon who can speak in the series without some kind of telepathy power, Meowth shows more human traits than Pokémon. He's also noted to be the only Pokémon that legitimately considers himself to be a "bad guy," the general consensus amongst Pocket Monsters is that all are of neutral persuasion and only do bad things if instructed to by bad trainers. He lies, cheats, and steals so well that he once deceived even the audience of the show, in an apparent turncoat act he joined Ash Ketcham's group of good guys for several episodes, claiming that Team Rocket had fired him for a bungled heist. The plot was so convincing that character biographies and wiki articles all over the internet listed him as an ex-member of Team Rocket until it was all revealed to be a ploy.
Much to the disdain of Jessie and James, Team Rocket's Meowth cannot use Pay Day. He claims that all the effort used to learn to speak filled up his attack slots. Tough break.