One hot Pokémon.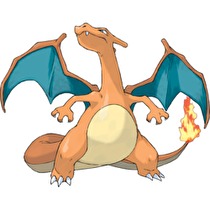 Everyone has a favorite in the original Kanto starters because for many of us fans, that's where it all began and choosing our first Pokémon is one of our fondest memories. Admittedly, I am actually a Charmander convert. My first few runs of Pokémon Blue started with Bulbasaur and Squirtle because these made Brock's Gym a cakewalk. As a young kid, I had the gaming prowess of a side table drawer, so truthfully, I needed the handicap. But once I had the courage to step out and try the more challenging route, there was no going back. Ash's Charizard might have been a jerk, but he was also a badass and that was all I wanted to know.
I like setting things on fire, a lot, and Charizard's combination of a moderately high Special Attack and Speed makes it easy to do. I know the big lizard buddy may not have the best advantage against other types these days, netting three weaknesses because of its dual type, but he has a trump card when its health falls: Blaze. Take a strong Pokémon with some generally strong attacks and raise its strength? Yes, please. And yes, while powering through someone's defenses in a literal blaze of glory may not be able to defeat anyone above the age of seven who isn't a computer player, it's still really fun to do.
Charizard also has not one, but two, count them two, mega evolutions. The only other Pokémon to have two mega evolved forms? Mewtwo, Nintendo's poster child for awesome. See? Nintendo and I know where it's at with this guy.