Check out info on Sonic Boom, Whirlwind, Lightning Rod, and Warnado.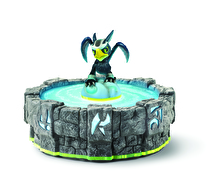 Sonic Boom
Type: Air
How to get: Individual, 3-Pack (w/ Wrecking Ball and Stealth Elf)
Variations:
Sonic Boom screams and hatches eggs. The scream is her primary attack, while the eggs spawn baby Sonic Booms that attack nearby enemies. They can even be powered up by her scream. I don't know what this says about Skylanders' representation of women...
Starting Abilities
Roar (A button; Screech to do damage to nearby enemies)
Egg Toss (B button; launch an egg that hatches into a baby bird)


Initial Upgrades
Loudmouth (Roar does more damage)
Let There Be Flight (Z button; fly to increase speed and defense)
Ride of the Valkyries (Babies can fly, too)
Three's A Crowd (Have three active babies at once)


Medea Griffin Path
Sunny Side Up (Throw all eggs at once)
Sibling Rivalry (Four active babies at once)
Terrible Twos (Babies hatch fully grown and attack faster)


SIren Griffin Path
Echolocation (Roar attack hits a wider range)
Egg Shocker (Roar at eggs to create a shockwave)
More Boom! (Increase damage of Roar attack by holding the A button)


Soul Gem Ability: Resonant Frequency (Roar at babies to get them to roar back; found in Sky Schooner Docks)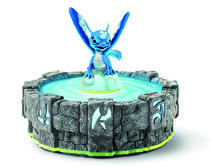 Whirlwind
Type: Air
How to get: Individual, 3-Pack, 3-Pack (w/ Pop Fizz and Trigger Happy), Individual (Series 2)
Variations: Series 2, Polar Whirlwind, Rock Whirlwind
Whirlwind is a unicorn who can emit rainbows from her horn. She can also flap her wings and blow wind at enemies. Basically, she's the closest thing to The Last Unicorn that Skylanders has.
Starting Abilities
Rainbow of Doom (A button; fires rainbow in an arc)
Tempest Cloud (B button; Fire a cloud that electrocutes enemies)


Initial Upgrades
Rainbow Chain (Rainbow of Doom does more damage; shoot at Tempest Cloud to spawn more rainbows)
Triple Tempest (Have three Tempest Clouds active at once)
Dragon Flight (Z button; adds flight ability)
Dual Rainbows (Shoot a Tempest Cloud and two Rainbows will spawn)


Ultimate Rainbower Path
Double Dose of Doom (Shoot two Rainbows at once)
Atomic Rainbow (Rainbow of Doom does more damage)
Rainbow Singularity (Charge up a powerful Rainbow attack)


Tempest Dragon Path
Triple Rainbow, It's Full On (Three Rainbows will chain out of a Tempest Cloud)
Tempest Tantrum (Increase damage and range of Tempest Cloud)
Tempest Matrix (Electricity forms between Tempest Clouds)


Soul Gem Ability: Rainbow of Healing (rainbows heal allies; found in Creepy Citadel)


Wow Pow Ability (Only Available in Series 2 Figures): Cloudbursting (Tempest Clouds automatically fire rainbows)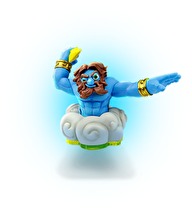 Lightning Rod
Type: Air
How to get: Individual, 3-Pack (w/ Zook and Cynder)
Variations: None
Lightning Rod uses the power of thunder to harm those who cross him. He kind of looks like a stylized Zeus chilling in his cloud with his beard and golden gauntlets.
Starting Abilities
Lightning Bolt (A button; throw a lightning bolt)
Grand Lightning Summon (B button; control lightning from the sky)


Initial Upgrades
Lightning Lancer (Lightning Bolt does more damage)
Thunderation (Grand Lightning lasts longer, does more damage)
Zapper Field (Z button; Create an electrical storm)
Lightning Harpoon (Lightning Bolts stick to enemies)


Lightning Lord Path
Faster Caster (Summon Grand Lightning faster)
Electricity City (Grand Lightning attack does more damage)
Lightning Avatar (Grand Lightning attack does more damage)


Typhoon Titan Path
Cloud Zapper Satellite (cloud follows you and zaps any enemies)
Zappier Sats (Zapper clouds do more damage)
Zapper Satellite Defense (Three clouds at your disposal)


Soul Gem Ability: Zapper Field Deluxe (Zapper Field and Cloud do more damage; found in Stonetown)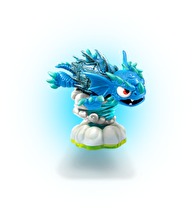 Warnado
Type: Air
How to get: Individual, 3-Pack (w/ Camo and Ignitor)
Variations: Glow Warnado
Warnado is a spiky-shelled turtle who can use the power of wind to summon tornadoes to help him fight off enemies.
Starting Abilities
Spin Attack (A button; spin in shell to hurt enemies)
Summon Tornado (B button; spin faster to generate a tornado)


Initial Upgrades
Sharp Shell (Spin Attack does more damage)
Extended Tornado (Extend Tornado range)
High Winds (Tornadoes damage multiple enemies)
Whirlwind Flight (Z button; power of flight)


Eye of the Storm Path
Low Friction Shell (Spin Attack hits faster)
Flying Mini Turtles (Mini-Warnados fly with you)
Turtle Slam (Slam attack added to Flight)


Wind Master Path
Guided Twister (manually control tornado)
Summon Cyclone (Tornado size and damage increase)
Wind Elemental (Tornadoes attack enemies on their own)


Soul Gem Ability: Thick Shelled (Ups defense; found in Stormy Stronghold)