Check here for details on Pop Fizz and Ninjini.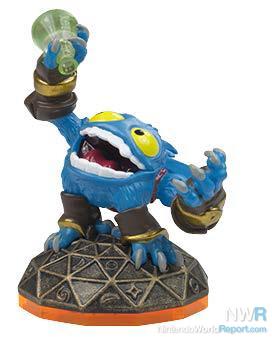 Pop Fizz
Type: Magic
How to get: Individual, Skylanders Giants 3DS Starter Pack (Punch variation), 3-Pack (w/ Whirlwind and Trigger Happy)
Variations: Punch Pop Fizz, Lightcore Pop Fizz
Pop Fizz is a Jekyl-and-Hyde-kinda guy. He's an alchemist who throws around deadly potions and, when he's feeling frisky, drinks a potion and becomes a powerful beast for a limited time.
Starting Abilities

Potion Lob (A button; lob currently equipped potion)
Beast Form (B button; temporarily transform into a beastly form)


Initial Upgrades
New Concotions (Z button; switch between different potions)
Puddle of Pain (New potion that leaves an acid puddle)
Raging Beast (Attacks in Beast Form do more damage)
Dexterous Delivery (Throw and grab potions faster)


Path 1
More Beast (Beast Form drains slower and recharges faster)
Berserker Boost (Damaging enemies increase Beast Form meter)
Mutant Beast (Press Z button to do a special attack in Beast Form; varies on what potion is selected)


Path 2
Master Chemist (Increase potion damage and effects)
Mixologist (Mix potions for different effects)
All In (Hold A button to fire three potions)


Soul Gem Ability: Shake It (Repeatedly press Z button to shake a potion until it explodes; found in Wilikin Village)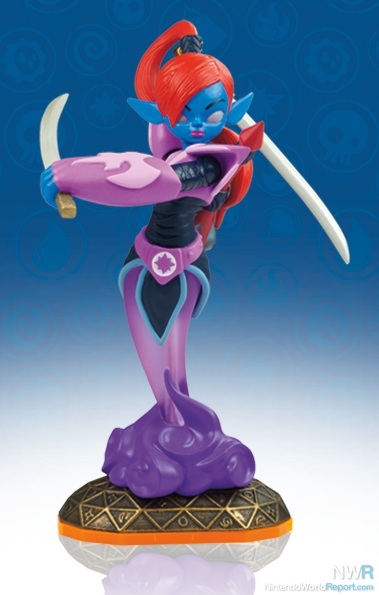 Ninjini
Type: Magic Giant
How to get: Unknown
Variations: Scarlet Ninjini
Ninjini is the Magic Giant, who is a warrior that got trapped in an enchanted bottle (like a genie, get it?). She uses her pair of swords and bottle to help attack enemies and then retreat.
Starting Abilities: Unknown
Initial Upgrades: Unknown
Path 1: Unknown
Path 2: Unknown
Soul Gem Ability: Unknown
3DS Abilities: Unknown