Check here for info on Gill Grunt, Zap, Slam Bam, and Wham-Shell.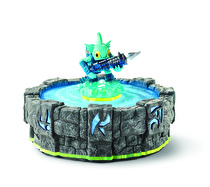 Gill Grunt
Type: Water
How to get: Skylanders: Spyro's Adventure Wii Starter Pack
Variations: Series 2 Gill Grunt
Gill Grunt is one of the three console starters and, similar to Spyro, features more ranged attacks. His Harpoon Gun is a great long-range weapon, and his Power Hose is better for taking out swarms around you, since it has a sizable and easy-to-maniupulate spray area.
Starting Abilities
Harpoon Gun (A button; shoots harpoons)
Power Hose (B button; sprays water)


Initial Upgrades
Barbed Harpoons (increases harpoon damage)
High Pressure Power Hose (increases hose damage and knockback)
Harpoon Repeater (increases reload speed of harpoons)
Water Jetpack (Z button; self explanatory)


Harpooner Path
Quadrent Harpoons (increases harpoon damage)
Piercing Harpoons (harpoons go through enemies)
Tripleshot Harpoon (shoot three harpoons at once)


Water Weaver Path
Reserve Water Tank (hose/jetpack never run out of water)
Boiling Water Hose (increases hose damage)
Neptune Gun (hose launches exploding starfish)


Soul Gem Ability: Anchor Cannon (super powerful harpoon attack; found in Treetop Terrace)


3DS Abilities: Harpoon Gun (starting; shoots harpoon), Sea Spray (starting, shoots stream of water), Rising Tide (level 2; adds hover ability that damages enemies underneath), Bubble Burst (level 5, charged harpoon gun fires three harpoons at once), Ice Flow (level 8; icy shot that damages and freezes enemies), Mystic Seeker Scroll (20% health bonus; found in Glacial Slopes)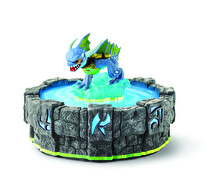 Zap
Type: Water
How to get: Individual, 3-Pack (w/ Hex and Dino-Rang)
Variations: Glow-in-the-dark Zap
Raised by electric eels, Zap is a dragon who can use water and electricity to nullify his foes. Along with electrical water surges and lightning bolts, Zap can also leave behind a trail of water that becomes an electrical current if anyone walks in it.
Starting Abilities
Lightning Breath (A button; spits out electricity)
Sea Slime Slide (B button; slides around on sticky slime that entraps enemies)


Initial Upgrades
Electro-Slime (Sea Slime becomes electrified by Lightning Breath)
Stay Awhile (Sea Slime stays electrified longer)
MegaVolt (increases Lightning Breath damage)
Wave Rider (Z button; summon a great wave)


Tesla Dragon Path
Lightning Strikes Twice (Lightning Breath bounces off of enemies and objects)
Electric Wave (Wave Rider does more damage)
Tesla Storm (3000; increases Lightning Breath damage)


Slime Serpent Path
Strength in Numbers (create more Sea Slimes)
Charged with Punishment (automatically electrify Sea Slimes)
More Electro'd Slime (enemies take more damage in Sea Slime)


Soul Gem Ability: Love for the Sea (regenerate health in water; found in Leviathan Lagoon)


3DS Abilities: Ball Lightning (starting; shoots a ball of electricity), Washout (starting, fires wave of water), Electric Spout (level 2; leave behind electric waterspouts while sprinting), Chain Lightning (level 5, Ball Lightning bounces after hitting enemy), Tide Pull (level 8; waterspouts last twice as long), Mystic Seeker Scroll (20% damage bonus; found in Icelight)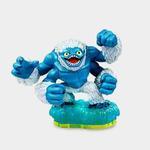 Slam Bam
Type: Water
How to get: Empire of Ice Adventure Pack, Individual (Series 2), Legendary 3-Pack (Series 2 w/ Ignitor and Jet-Vac)
Variations: Legendary Slam Bam (Series 2), Series 2
Slam Bam is a four-armed yeti. Awesome, right? It gets better. He surfs and eats snow cones. Also, he uses his four arms to beat up baddies.
Starting Abilities
Yeti Fists (A button; use four arms to punch things)
Ice Prison (B button; ranged attack that sends an ice prison out that can trap enemies)


Initial Upgrades
Three's A Charm (have three ice prisons active at once)
Arctic Explosion (Ice Prisons explode when punched)
Yeti Ice Show Slide (Z button; slide on the ground)
Ice Knuckles (punches do more damage)


Blizzard Brawler Path
Brawler Combos (use an Ice Hammer to vary your punches)
Ice Mace (punches do even more damage)
Blizzard Battle Armor (increased defense)


Glacier Hit Path
Deep Chill Ice Coffin (Ice Prisons do more damage)
Glacier Tactics (Ice Prisons increase in range and speed)
Work of Ice Art (Ice Prisons last longer)


Soul Gem Ability: Yeti-Cooling Factor (can surf faster; wears shades; found in Empire of Ice)


Wow Pow Ability (Only Available in Series 2 Figures): Sleigh Me! (Hold Z button to ride on a sleigh)


3DS Abilities: Chilled Punch (starting; punch with ice fists), Ice Pillar (starting, summon an ice pillar to attack enemies and protect yourself), Snowblower (level 3; Destroy Ice Pillar and send an ice cloud to damage enemies), ???? (level 7), ??? (level 9)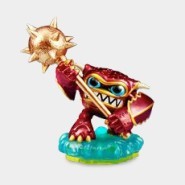 Wham-Shell
Type: Water
How to get: N/A
Variations: Crystal Wham-Shell
Abilities: N/A
Wham-Shell is a mace-wielding lobster who is angry that his home was attacked by trolls looking for oil. So, his fierce battle tendencies are justified.
Starting Abilities
Malacostacan Mace (A button; swing a big mace)
Starfish Bullets (B button; shoot starfish out of said big mace)


Initial Upgrades
Starfishicus Giganticus (Charge Starfish attack for more power)
King's Mace (Increased mace damage)
Starfishicus Superioralis (Starfish attack does more damage)
Poseidon Strike (Z button; create an electric field that damages enemies)


Captain Crustacean Path

Crustacean Combos (increased mace damage)
Mega Trident (increased mace damage)
Mace of the Deep (increase Poseidon Strike damage)


Commander Crab Path
Triplicate Starfish (shoot three starfish at one time)
Semi-Eternal Punishment (adds homing to starfish)
Nightmare Huggers (Starfish attach to enemies)


Soul Gem Ability: Carapace Plating (increase defense; found in Oilspill Island)


3DS Abilities: Crab Crunch (starting; attack with mace), Shooting Starfish (starting; shoot a starfish), ????? (level 4), ???? (level 7), ???? (level 10), Mystic Seeker Scroll (20% damage bonus; found in Whipwind Mountains)