Check out info on Stealth Elf, Stump Smash, Zook, and Camo.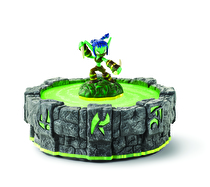 Stealth Elf
Type: Life
How to get: 3DS Starter Pack, Individual, 3-Pack (w/ Sonic Boom and Wrecking Ball)
Variations: Crystal Stealth Elf, Legendary Stealth Elf
Stealth Elf is a shadowy character who uses blades and stealth to get by. Her primary attack is using her two blades to melee opponents. She also has a Stealth ability where she leaves a duplicate of herself to distract enemies, allowing you to sneak around and get the drop on them.
Starting Abilities
Blade Slash (A button; blade melee attack)
Stealthier Decoy (B button; drop a decoy and then move around in secret)


Initial Upgrades
Straw Pook Scarecrow (decoy becomes a scarecrow)
Dragonfang Dagger (blades do more damage)
Sturdy Scarecrow (scarecrow lasts longer)
Arboreal Acrobatics (Z button; nimbly move around with a touch of a button)


Pook Blade Saint Path
Elf Jitsu (combo attacks that either do an attack flurry or release poison gas)
Elven Sunblade (blades do more damage)
Shadowsbane Blade Dance (magical blades help you)


Forest Ninja Path
Scare-crio Trio (three scarecrows instead of one)
Scarecrow Booby Trap (scarecrows explode when attacked)
Scarecrow Spin Slicer (scarecrows wield axes to do more damage)


Soul Gem Ability: Sylvan Regeneration (regenerate health; found in Falling Forest)


3DS Abilities: Dagger Dance (starting; blade attack), Thorn Throw (starting; throw thorns at enemies), Sneaky Decoy (level 2; become transparent, and then when you're hit, you drop a stunning decoy), Stun Run (level 5; become transparent, and then emerge from the shadows do a blade attack), Thorn Storm (level 8; throw rapid-fire thorns), Mystic Seeker Scroll (20% health bonus; found in Ashburrow)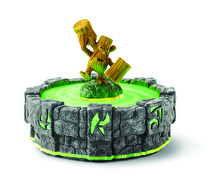 Stump Smash
Type: Life
How to get: Individual, 3-Pack (w/ Flameslinger and Drobot)
Variations: Flocked Stump Smash
Tree monsters sound totally scary, but Stump Smash is a benevolent good-natured one. He's got two giant mallets for hands and he can spit out acorns on cue. The latter sounds like it could be a cheap parlor trick, but it helps him fend off enemies.
Starting Abilities
Pulverize (A button; smash with mallet hand)
When Acorns Attack (B button; spit acorns to slow enemies down)


Initial Upgrades
Petrified Pummel (Pulverize does more damage)
Spiny Acorns (Acorns do more damage)
Meganut (Z button; creates land-mine-ish nut)
Thornbark (when hit, thorns damage nearby enemies)


Smash 'N' Bash Path
Stump Crusher Combos (Pulverize combo attack)
Acorn Croquet (Send Meganuts flying at enemies)
Smash Meganut (detonate Meganut for area damage)


Nut Crafter Path
Pollen Plume (Acorns explode, making plants grow on enemies)
Meganut Propagation (Meganuts burst into acorns)
Double Nut (spit two Acorns at once)


Soul Gem Ability: Waterlogged (float and regain health in water; found in Perilous Pastures)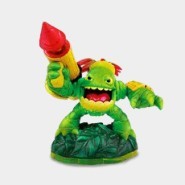 Zook
Type: Life
How to get: Individual, Individual (Series 2), 3-Pack (w/ Lightning Rod and Cynder), 3-Pack (w/ Ignitor and Chill)
Variations: Series 2, Rock Zook (Series 2)
Zook is a rastafarian plant fellow with a giant bazooka. The totally organic bamboo tube he uses as a weapon is emboldened by the haikus he spits out on occasion. That's not really an ability; he just apparently likes poetry.
Starting Abilities
Bazooka Attack (A button; fires bazooka, can be held down to create explosive shrapnel)
Foliage Barrier (B button; grow a plant barrier)


Initial Upgrades
Hardwood Shells (Bazooka Attack does more damage)
Fungal Bloom (Barrier is stronger)
Mortar Bomb (Z button; launches a mortar attack)
Full Splinter Jacket (Bazooka Attack creates more shrapnel)


Artilleryman Path
High Velocity Shrapnel (Bazooka shrapnel range increased)
Old Growth Bazooka (Bazooka Attack does more damage)
Exploding Shrapnel (Bazooka shrapnel explodes on contact)


Floral Defender Path
Cactus Barrier (barrier does damage to enemies)
Mortar of Life (Mortar grows a cactus where it explodes)
Fightin' Foliage (Barriers and Cacti do damage)


Soul Gem Ability: MIRV Mortar (Mortar shells explode into three; found in Troll Warehouse)


Wow Pow Ability (Only Available in Series 2 Figures): Target Lock (Hold Z button to bring up a target reticule and press A to hit the target)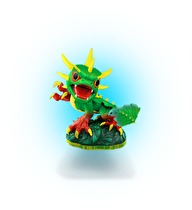 Camo
Type: Life
How to get: Individual, 3-Pack (w/ Warnado and Ignitor)
Variations: None
Camo the plant dragon deals mainly in plants and fruit. With his leafy tail and sun-enabled projectiles, he takes on enemies. Upgrade him enough and he even launches watermelons.
Starting Abilities
Sun Burst (A button; shoot balls of concentrated sun)
Firecracker Vines (B buttons; summons vines that rise from the ground, hurting enemies)


Initial Upgrades
Searing Sun Blast (increases Sun Burst damage)
Melon Fountain (Z button; shoots out melons)
Firecracker Food (Firecracker Vines do more damage)
Vigorous Vines (Firecracker Vines more faster)


Vine Virtuoso Path
Martial Bounty (Firecracker Vines create exploding melons)
Peppers of Potency (Vines do more damage)
Proliferation (Create two Vines at once)


Melon Master Path
Ring of Might (Melon Fountain fires more melons)
Melon GMO (Melons do more damage)
Melon Fortress (Use melons are shield, fire more melons)


Soul Gem Ability: Orbiting Sun Shield (create a shield; found in Goo Factory)