Check out info on Chop Chop, Ghost Roaster, Cynder, and Hex.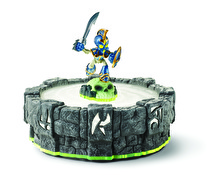 Chop Chop
Type: Undead
How to get: Individual, 3-Pack (w/ Bash and Eruptor), Legendary 3-Pack (w/ L. Bash and L. Spyro), Golden Dragonfire Cannon (w/ Shroomboom - GameStop Exclusive), Dragonfire Cannon (w/ Shroomboom)
Variations: Legendary Chop Chop, Gold Chop Chop, Series 2
Chop Chop chops enemies with his chopping sword and his chopping shield. But chop-really, he's a skeleton warrior who some excellent weaponry and resembles a boney roman warrior.
Starting Abilities
Arkeyan Blade (A button; sword attack)
Arkeyan Shield (B button; hold to defend/deflect attacks)


Initial Upgrades
Spiked Shield Bash (B button also does a shield bash)
Vampiric Aura (Blade does more damage and regains health)
Shield Spartan (Move while holding strengthened shield)
Bone Brambler (Z button; attack enemies with Bone Brambles)


Vampiric Warrior Path
Arkeyan Combat Master (Add Arkeyan Cyclone attack to sword)
Arkeyan Vorpal Blade (sword does more damage)
Demon Blade of the Underworld (sword gains range and does more damage)


Undead Defender Path
Arkeyan Spectral Shield (absorb and expel damage)
Shield Stun Bash (Shield Bash stuns enemies)
Demon Shield of the Shadows (Shield Bash does more damage and expels absorbed damage)


Soul Gem Ability: Cursed Bone Brambler (Bone Brambles do more damage; found in Shattered Island)


Wow Pow Ability (Only Available in Series 2 Figures): Shield Skewer (Hold the B button and press the A button to perform a mega shield bash)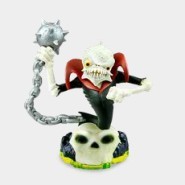 Ghost Roaster
Type: Undead
How to get: Darklight Crypt Adventure Pack
Variations: None
Ghost Roaster might be this writer's personal favorite Skylanders. He's a ghost with a chain for a tail that uses that to attack mainly. He also can turn into a giant ghost head to eat enemies. Seriously. It's so cool.
Starting Abilities
Chain Whip (A button; swing chain tail at enemies)
Skull Charge (B button; transform into ghostly head that attacks enemies)


Initial Upgrades
Pain Chain (increases Chain Whip damage)
Metalhead (Skull Charge lasts longer)
Ectoplasm Mode (Z button; immune to attacks, but lose health over time)
Haunt (Use Chain Whip to defeat enemies to turn them into ghosts)


Fear Eater Path
Phase Shift Burst (nearby enemies take damage when you enter Ectoplasm Mode)
Ecto-Friendly (Increased speed/health in Ectoplasm Mode)
Nightmare Touch (touching a ghost in Ectoplasm Mode creates an explosion)


Skull Master Path
Fright Bite (Skull Charge does more damage)
Unfinished Business (Use Skull Charge to defeat enemies to turn them into ghosts)
Life Transfer (devouring a ghost in Skull Charge heals you)


Soul Gem Ability: Lingering Curse (Ghosts have bigger attack range; found in Darklight Crypt)



Cynder
Type: Undead
How to get: Individual, 3-Pack (w/ Lightning Rod and Zook), Skylanders Giants Starter Packs (Series 2)
Variations: Toy Fair 2012 Cynder, Crystal Cynder, Series 2
Cynder, the only other returning character from Spyro's past adventures, comes back to help redeem herself and save the world by using her undead powers. She spews lightning and uses the shadows to unleash hordes of ghosts on her foes.
Starting Abilities
Spectral Lightning (A button; fires bolts of lightning)
Shadow Dash (B button; dash forward in shadow form, summoning ghosts along the way)


Initial Upgrades
Cynder Flight (Z button; flies around the environment)
Black Lightning (Increases Spectral Lightning damage)
Double Spooky! (Increases ghost damage)
Shadow Reach (Shadow Dash length is increased)


Nether Wielder Path
Unstable Forces (hitting a ghost with lightning makes it explode)
Breath Control (Spectral Lightning lasts longer)
Breath of Power (Spectral Lightning range increased)


Shadowdancer Path
Death Bound (Ghosts slow down enemies)
Ghost Haunter (Ghosts last longer and do more damage)
Shadow Strike (Shadow Dash does damage)


Soul Gem Ability: Haunted Ally (a ghost ally help you out; found in Molekin Mine)


Wow Pow Ability (Only Available in Series 2 Figures): (While flying, press the B button to fire a lightning blast from the sky)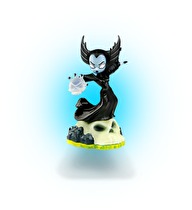 Hex
Type: Undead
How to get: Individual, 3-Pack (w/ Zap and Dino-Rang)
Variations: Pearl Hex
Hex the undead elven sorceress has a murky past. Most people don't trust her, reportedly, but she strives to fight for good, helping the rest of the Skylanders defeat Kaos with her magical attacks.
Starting Abilities
Conjure Phantom Orb (A button; launch homing magic orbs)
Rain of Skulls (B button; charge to cast a spell that rains down skulls)


Initial Upgrades
Wall of Bones (Z button; creates a defensive wall of bones)
Storm of Skulls (conjure more skulls with Rain of Skulls)
Bone Fortress (Wall of Bones lasts longer)
Twice the Orbage (Shoot 2 Phantom Orbs at once)


Shade Master Path
Long Distance Orbs (increases orb range)
Caustic Phantom Orbs (increases orb damage)
Unstable Phantom Orbs (orbs explode for more damage)


Bone Crafter Path
Compound Fracture (Wall of Bones does damage)
Master Caster (decrease time to cast Rain of Skulls/Wall of Bones)
Troll Skulls (Rain of Skulls does more damage)


Soul Gem Ability: Skull Shield (Rain of Skulls knocks away enemies; found in Cadaverous Crypt)