NWR's Director became Director, got hitched, and played some video games in 2011.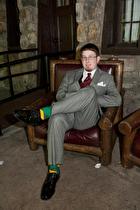 Simply put, 2011 was a crazy year for me. First and foremost, I became Director of this very site last January, taking over for the lovely and bald Jon Lindemann. In other, more life-changing news, I also got married in September, keeping up the proud tradition of Directors getting hitched while running the site (Lindemann did this during E3 2009. I had the good sense to get married in September, and I still managed to finish up the Star Fox 64 3D review in the days before I became betrothed.)
Outside of that, my gaming sensibilities went way farther into Nintendo Land than they ever have before. My DS was well loved, as I went from Radiant Historia to Pokémon Black, and the straight into the 3DS launch. From there, I fell in love with Nintendo's mildly lamented system. While there were certainly doldrums in May and the summer, the 3DS was far and away the best system I played. From the underrated launch line-up to the marvelous Game Boy games to the stellar end-of-the-year slate, the system had it all. That's without counting the 20 free games Nintendo doled out to early adopters. All in all, I played my 3DS for nearly a day every month of the year, dwarfing every other system I own by a large amount. From March until December, I played my 3DS for roughly 24 hours every month. So that means I spent about eight days playing my 3DS last year.
I also played a lot of Madden NFL 12 on Wii, and I adored that Zelda game everyone always talks about. You Don't Know Jack was also pretty cool. Let's get real: the Wii sucked last year. I'm struggling to come up with games.
I also got to be privy to Radio Free Nintendo hosting another panel at PAX East in March. I was a part of another year of NWR killing it at E3. In 2012, I look forward to doing it all over again, and then some. It's Wii U time, dudes.
Happy New Year, readers.