J.P. barely acknowledged the existence of the Wii in 2012, really overcompensated with the 3DS.
2011 was a year like no other that I've had when it came to Nintendo. After buying lots of Wii games in the previous couple years, my one and only Wii purchase of 2011 didn't come until the late November release of The Legend of Zelda: Skyward Sword, a game I still have yet to start. Instead, my focus this year has been on Nintendo's handhelds, specifically the 3DS, which I seem to have taken the opposite approach with, at one point owning a majority of the software available for the platform.
As with the DS and Wii before it, I decided well ahead of time that I'd be buying a 3DS at launch, regardless of the available software. Despite the meager launch lineup, I left the midnight launch event with five games, a full twenty percent of the total I'd finish the year with. Of those, the one that truly stands out for me is Pilotwings Resort. I'd never played a game in the series, and barely touched the flight mode in Wii Sports Resort, so I was able to see past the relative lack of content and really love what was there. As someone who can get really into chasing high scores, I spent a lot of time getting three stars on each mission. While the game was short, I loved every minute of it, and consider it one of the best launch titles of any system I've played.
While it began in 2010, 2011 was where my love of the sport of soccer really took off. While I had some fun with Pro Evolution Soccer 2011 at the 3DS launch, giving it a 7.5 in the first review I wrote for this site, it was with FIFA 12 later in the year that the sport was truly done right on the system. That game might be my second favorite of all those I played this year, only behind Super Mario 3D Land, which I've come to realize is my favorite of all time. FIFA 12 for 3DS packs all the depth of the console versions, and I've probably sunk more time into the career modes in it than I have any other game this year, even Mario.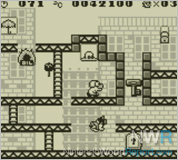 In addition to my massive retail backlog, there have been a lot of great download titles on the 3DS this year. While the Wii Virtual Console faced an almost comically long drought, the 3DS saw many classic games, chief of which for me was Donkey Kong for Game Boy. I'd always heard great things, but had never been able to try it before this. As a platformer junkie, the game was just perfectly tuned to my tastes, with just the right mix of difficulty and ingenuity that led me to burn right through it. In a year filled with great platformers on the 3DS, this Game Boy game from 1994 stands alongside games like Super Mario 3D Land and Mighty Switch Force as one of the best examples of the genre currently available.
One last download title that I feel deserves to be mentioned is a little game called Pyramids. While it was overshadowed by the big three eShop releases later in the year of Pushmo, Mighty Switch Force and VVVVVV, all of which are fantastic, this early eShop exclusive puzzle platformer packs a lot of content into a small, inexpensive package. In a sea of platformers, Pyramids stands out with great execution of old-school mechanics and level design, and is well worth owning for fans of that style.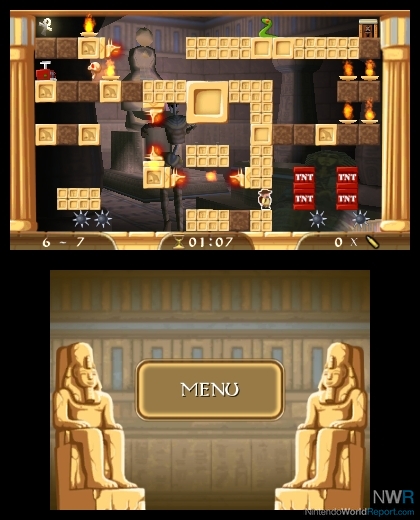 I may have gone overboard with the 3DS from the beginning, but the system finished the year really strong, going from "not enough games" to "too many games" in a very short timespan. Nintendo finished the year strong, and is poised to continue that into 2012. I look forward to continuing to buy way too many 3DS games.