The second remains the most beloved Smash Brothers of them all!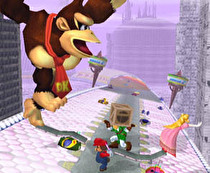 Year: 2001
Developer: HAL Laboratory
Publisher: Nintendo
NWR Score: 9.5 (Mike Sklens), 10.0 (Taylor Hill)
Why it's list-worthy:
Super Smash Bros. Melee is easily one of the best, highest-selling, and most cherished games Nintendo has ever released on any system, much less GameCube. It's an odd fighting game on paper, but in practice, Melee is a loving tribute to all things Nintendo. This game runs on an engine of chaos, as even two-player matches are constantly perturbed by random interruptions and powerful opportunities to change the competitive momentum. Bump it up to three or four players, and you have one of the most insane party games ever conceived, in which the basic abilities to locate your character and monitor the play area become just as important as your reflexes. In its own defiant way, Melee can be played as a remarkably deep, tournament-ready fighting game despite using just a couple of buttons and requiring no combo memorization. On the other hand, it can be a charmingly casual experience inviting even first-time players to pick a familiar character and make an impact on the action. On yet another level, the game is a living museum of Nintendo nostalgia, packed to the very last kilobyte with characters, stages, music, and trophies ranging from ubiquitous to incredibly obscure. No other game can match it for generating laughter among friends who have long exhausted the appeal for inside jokes. For a generation of teenage and 20-something players in the last decade, the joy of playing Melee was cut short only by the scattering of friends as school, work, and other life events developed. Keep a skilled companion around, and you could play Melee forever.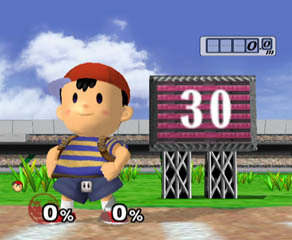 Small but effective
Favorite Moment:
Considering that the gameplay is almost procedurally generated, it's hard to define a signature moment in a game like this. However, it's hard to deny the hilarity of the infamous "Black Hole" glitch, discovered several years after the game's original release. Who knows what people will find in Melee in the next decade?
Least Favorite Moment:
Melee has a number of modes intended for solo play, and some, like Target Smash and Home Run Derby, are very well designed and fun to play for high scores. Yet woe unto that desperate player who embarks upon the quest to complete Adventure and Classic with every character. These modes are strung together from leftover pieces of content, and they change little with each iteration. The good news is that you can unlock rewards via alternate methods, including the option to just play a ton of multiplayer. Go with that.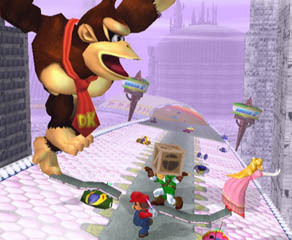 Surprised to see:
Despite Brawl having more modes, characters and stages, not to mention online play, many Smash Bros. fans shunned this game's sequel because they favor the balance and feel of Melee. That's a sure sign that Sakurai and Nintendo alchemized something special about the entire series with this classic game.