One lost spaceman plus hundreds of ant-like creatures equals Nintendo charm like no other.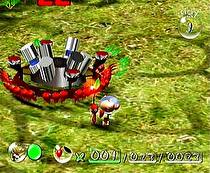 Year: 2001
Developer: Nintendo EAD
Publisher: Nintendo
NWR Score: 9.0 (Billy Berghammer), 8.5 (Daniel Bloodworth)
Why it's List-worthy:
Shigeru Miyamoto has been known to work gamers up into a frenzy by merely mentioning what his hobbies have been recently. Whether it's fishing, camping, or exercising, the legendary designers everyday activities have a tendency to show up in the games he designs. In 2001, the hobby was gardening, and the game was Pikmin, an action-oriented take on the real-time strategy genre. Set inside a world of lush greenery was a story of a lonely space man who, while trying to get back to his home planet, received help from the strangest of sources. The Pikmin were tiny and quiet, but they were also obedient and most importantly, numerous. The game was a race against time, with only 30 days (about 12 minutes in length) to complete your mission and re-assemble your space ship. While the game turned up the urgency, however, the music and visuals were calming; the game felt like a trip to your favorite state park. Photo-realistic foliage met charming writing and catchy music in one of the most memorable launch titles in Nintendo's storied history.
Although the series would go on to do great things in Pikmin 2, the original game captures the spirit of the outdoors and of discovery better than anything else on the console. As Captain Olimar, you truly feel the effects of landing on an alien planet. It's a truly great effect, and it just shows what wonderful art and level design can achieve.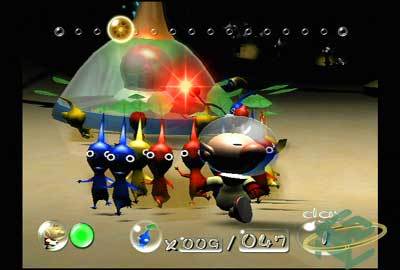 Favorite Moment:
One of the most memorable moments in the game comes very early as Captain Olimar first finds a red Pikmin in the ground and plucks it curiously. The Pikmin tilts its head to the side, and immediately Olimar knows he has found a valuable ally. There are many memorable moments in the game, but the very first one is definitely the best.
Least Favorite Moment:
Unfortunately it can be very difficult to enjoy the incredible scenery in Pikmin when you are struggling just to meet your objectives. As the days begin to count toward 30, and you still need most of your space ship, the game begins to lose its way. Of course you don't need all 25 pieces of your ship to return home, but who knows which ones are optional?
Surprised to See…
Once a fair number of Pikmin have joined your army, pressing up on the GameCube D-pad results in a nice little surprise: Olimar falls down and the Pikmin pick him up and return him to their home, the Onion. After the Onion tries to beam up Captain Olimar, a beautiful fireworks show erupts into the sky. Its surprises like this that make Nintendo games feel like Nintendo games.