Not every game will be available for download, Nintendo of America revealed.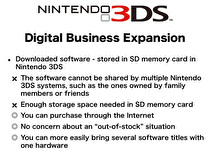 New Super Mario Bros. 2 and only the majority (not all) of first-party 3DS and Wii U games will debut simultaneously as a retail and download game, Nintendo of America confirmed today in a statement.
Nintendo Co., Ltd., the main Japanese branch of the company, announced yesterday during an investor's briefing that retail games will also be available for download. Nintendo of America echoed many of the same points, such as the fact that retailers will offer games as both a download code and as a packaged game to "give shoppers more options." See below for Nintendo of America's full statement:
Nintendo is aiming to significantly expand its digital business. In August, New Super Mario Bros. 2 for the Nintendo 3DS system will launch both as a packaged game at retail stores and as a digital download in the Nintendo eShop. The majority of Nintendo-published Nintendo 3DS games will have the same dual-distribution strategy. Likewise, the majority of Nintendo-published Wii U games will be available both as packaged products and as digital downloads starting on launch day.

These downloadable games will also be available for purchase at participating retail stores and on retailers' websites. Our customers can visit retail outlets or their online shopping sites, look for the products they want and pay for the product there. The retailers will then provide shoppers with a 16-digit code that can be exchanged in the Nintendo eShop for the game. This will give shoppers more options to find and purchase their favorite games.