Japan and the U.S. have the highest connection rates.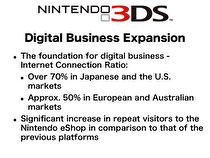 The Japanese and U.S. markets have seen a steady increase in 3DS internet connectivity to their current rate of 70%, Nintendo revealed during their end-of-the-year investor's meeting.
This does not mean that 3DS owners in those two territories are necessarily playing games online, but only that they are actively connecting their systems to the internet. This rate is the highest that any of Nintendo's handhelds have ever achieved.
The European and Australian markets, however, hover around 50%, a number Nintendo is unsatisfied with. It should be noted that even at 50%, that rate is still much higher than for previous handhelds. Additionally, 3DS owners are visiting the eShop more often than they ever did on the DSi Shop. This increase in consumer connectivity, as well as the increase in eShop visits, are helping to motivate Nintendo toward its surprising decision to embrace digital retail downloads.