It sure isn't a good time to be the Wii right about now.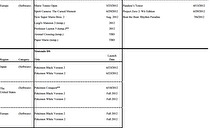 A release date schedule for notable upcoming 3DS, DS, and Wii games was released by Nintendo during the recent investors meeting.
In Europe, the only real changes from the previous January release schedule are the addition of Project Zero 2: Wii Edition and updated release dates for Pandora's Tower (already released on April 13) and Beat the Beat: Rhythm Paradise (July 6). In the United States, the only Wii release mentioned is the already released Xenoblade Chronicles. In Japan, the release date changes of note are the Animal Crossing Fall 2012 release date, a summer release for Onitore on 3DS, and the addition of the previously announced Just Dance Wii 2.
The most notable information comes from the launch dates for Animal Crossing and Paper Mario. Although Paper Mario is given a 2012 Japanese release and Animal Crossing is set for this fall, Europe and the United States both have TBA listed under both games' releases. In the last investor's meeting in January, both games were listed in the same manner. Luigi's Mansion 2, on the other hand, is listed as a 2012 release.