Third-party publishers will be able to offer their games as both disc-based products and digital downloads, but Nintendo hasn't finalized the plans.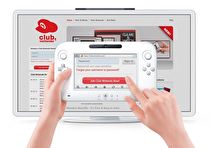 Third parties will likely have the option to put their retail games up for download on 3DS and Wii U, but Nintendo of America is still working on the details.
"We are currently preparing a program for third parties but have nothing specific to announce at this time," a Nintendo of America representative told us earlier today.
Last week, Nintendo President Satoru Iwata revealed to investors that New Super Mario Bros. 2, due out in August, will be the first Nintendo game to be available as a packaged game and a digital download. Iwata also said that Wii U will have the functionality to download full games at launch.