Alex summarizes his experiences and reviews the overall event.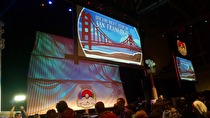 Would I recommend going to the Pokémon World Championships? That depends. If you play the game seriously and competitively, this place is practically Pokémon Mecca. It's an immeasurably friendly event made to celebrate the brand – especially if you're a serious player. If you like Pokémon but aren't that insanely serious about it competitively, I probably wouldn't recommend traveling more than an hour or two driving to get there. It's such a small event that there might not be too much to do for you unless you really want to see Boston outside of the convention (or whatever city it comes to, like San Francisco next year).
However, if you do live close to one of these, I fully recommend coming by to play or simply watch the festivities. There are some cool competitions, a lot of good matches to watch, a lot of cool stuff to buy, and some great people to meet. For what it's worth, after the last few games weren't exactly up my alley, this event reinvigorated my love for Pokémon. And who knows? Maybe the next games in the series will inspire me to give this whole competitive thing a try for myself.