In which Alex scopes out the location and apparently avoids a tragedy.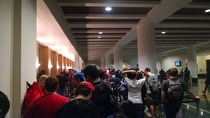 My press pass wasn't going to be ready until Friday morning, but I still wanted to see what Day 0 of Worlds at Hynes Convention Center looked like. There were around 500-1000 people in the building, and the scene was relatively quiet, with the only two things of note being Registration and Retail.
Registration was where you registered as a competitor for the video and/or trading card game (note that this annual event serves as the championships for both), and Retail is the in-event store filled with items exclusive to the Pokémon Center stores and the 2015 World Championships. I found out that every year, there is exclusive Worlds merchandise with a new, exclusive Pikachu modeled after the city the event takes place in. This year, as the convention takes place in Boston, Pikachu is modeled after one of the founding fathers of America (where he belongs), with a little telescope, powdered wig, and Team Aqua hat to boot. It's also worth noting that the line to get into the store was one-to-two hours long at any given time until Saturday, so I didn't end up waiting in line today.
That was all that happened, and nothing eventful occurred otherwise. Big thanks to the great Boston Police and event staff for keeping it that way.