The Championships have begun!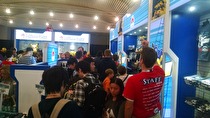 I woke up at 6:30 in the morning to get a fresh start on the day, but more importantly because the opening ceremonies (where we expected to get some kind of hot announcement) were going to start at 9 and I wanted to be in line at the convention center by 8.
As I got to the center and waited for doors to open, I got a vibe of the kind of people who showed up to this thing. There were some interesting characters here and there, but most of the attendees were families, teenagers, and young adults excited to play. While there were many older adults as well, the event generally skewed under 30 years old. There was StreetPassing, there was hype, there were murmurs of Pokémon Z, and everyone was generally being friendly – something that I'll be talking more about in a second.
The doors opened at 8:35ish, everyone rushed up to the main exhibition hall on the second floor, and we all sat patiently, waiting to see what would happen on the main stage. There were a couple thousand seats in front of the stage it looked like (I'm terrible with these things so maybe fewer). Nothing too crazy, and the event itself was smaller than I thought. It wasn't filled with tens of thousands of people at any given time like PAX East, and although they checked your bags at the door, passes weren't mandatory for entry and no one tried to stop any outsiders from wandering around. "Laid back" and "cozy" sum up my immediate first impression.
At 9:00 a.m., a lighthouse started blaring. Its light was shining in the distance, the sound of fog machines and the ocean were afoot, and the World Championships kicked off not with a Zygarde, but a Pikachu Libre. The event was introduced, President Tsunekazu Ishihara from the Pokémon Company got on stage, and I got to be in an audience of Pokémon fans as Pokkén Tournament got announced for Wii U. The energy was, ahem, electric, and telling fans that Pokkén was going to be playable this weekend really got everyone in a good mood and acted as a great pre-game for a weekend of Pokémon fun.
From there, I went to get my press pass, and got a good look at the scene this weekend. If you had always imagined the Pokémon World Championships as a booming event where two potential champions get in the middle of a huge arena and see who truly is the Pokémon Master, like I did, you would be somewhat far from the truth.
There was the aforementioned Retail area, an exhibition hall where all of the smaller side events and competitions took place, and a larger upstairs exhibition hall where the main stage was (where the streaming went down as well as the finals), as well as Pokkén, some Pokémon TCG online set-ups, and all of the main competition tables. The main stage was about the size of my high school auditorium, though there were some big monitors and a few fancy bells and whistles. The exhibition halls weren't extraordinarily large either. They are certainly big, but not out of place at your regional anime convention and the like (note that my regional anime convention is indeed held here).
It's also worth noting that for as somewhat dense and small the event was, this year seems like one of the larger Pokémon World Championships. When the event was held in Hawaii, it was supposedly even smaller than this. I would guess that the number of people here at any given time ranged in the thousands to very low ten thousands.
So I got my press pass (and ended up talking to a nice YouTuber named TamashiiHiroka who told me a bit about what that whole scene is like), and went straight to Retail in the hopes of buying some cool merchandise before the line gets unbearable. The line was already substantial, but it took about 45 minutes to get to the front. During that 45 minutes, I met Scott.
In front of me in line was Scott, an Englishman who flew down to the event to play the Trading Card Game with his young teenage son. His son did not qualify for the full championships and did not necessarily get a free ride down to the show, but Scott decided that the two would make the trip to play in other festivities and events as a good bonding experience. Scott is the kind of dad who ended up picking the TCG up because he liked traditional games, loved poker, and wanted to play the game with his son as an active participant instead of sitting on the sidelines at TCG events with a newspaper in hand (though, if you are a parent and take your kid to any event like this, regardless of what you do when you get there, you are an MVP parent).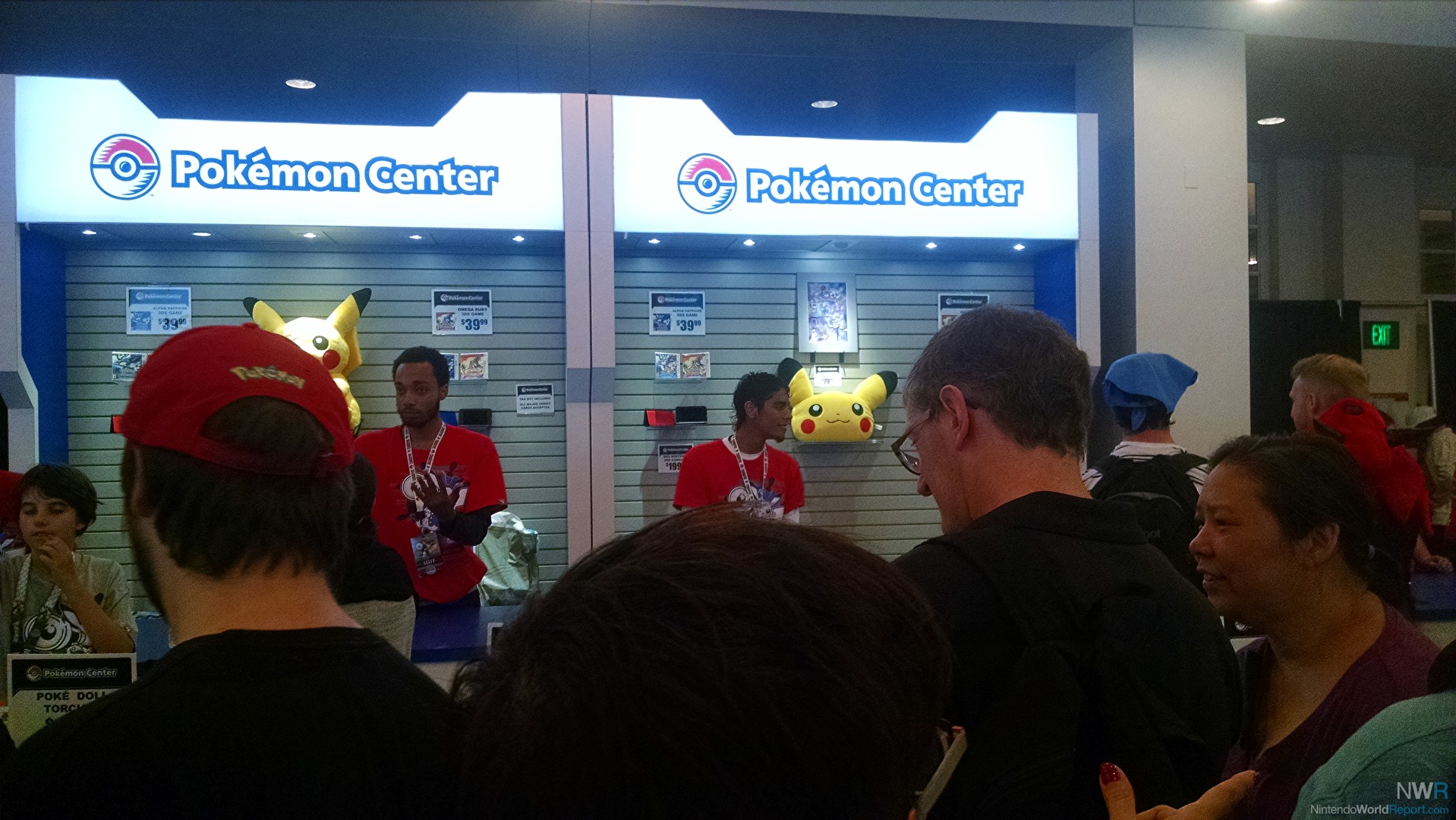 He had a deck stacked with special foil versions of all of the best cards, he told me about how he had a list of exclusive merch to buy at Retail for his friends back home), and by the time we were done talking, his excitement gave me this urge to learn how to play the card game (which I still feel at the moment of this writing). He's the kind of person I knew I wanted to talk to when getting to the show; he loves the game, he made it out here in the name of being a good dad, and he has this contagious excitement that came from every single person I made contact with this weekend. The Pokémon World Championships might not be the biggest or the loudest place, but it's an immeasurably welcome environment filled with nice people who love games and want to share that love with each other.
I had low expectations for Retail because the room it was built in is normally the room used to sell mozzarella sticks at Anime Boston, but man, they made a professional-looking Pokémon Center store. From cards to shirts to plushies and pins, nearly everything there was a Center exclusive or an event exclusive. Though things were expensive, I had no problems buying a few things in the name of an event I may only go to once.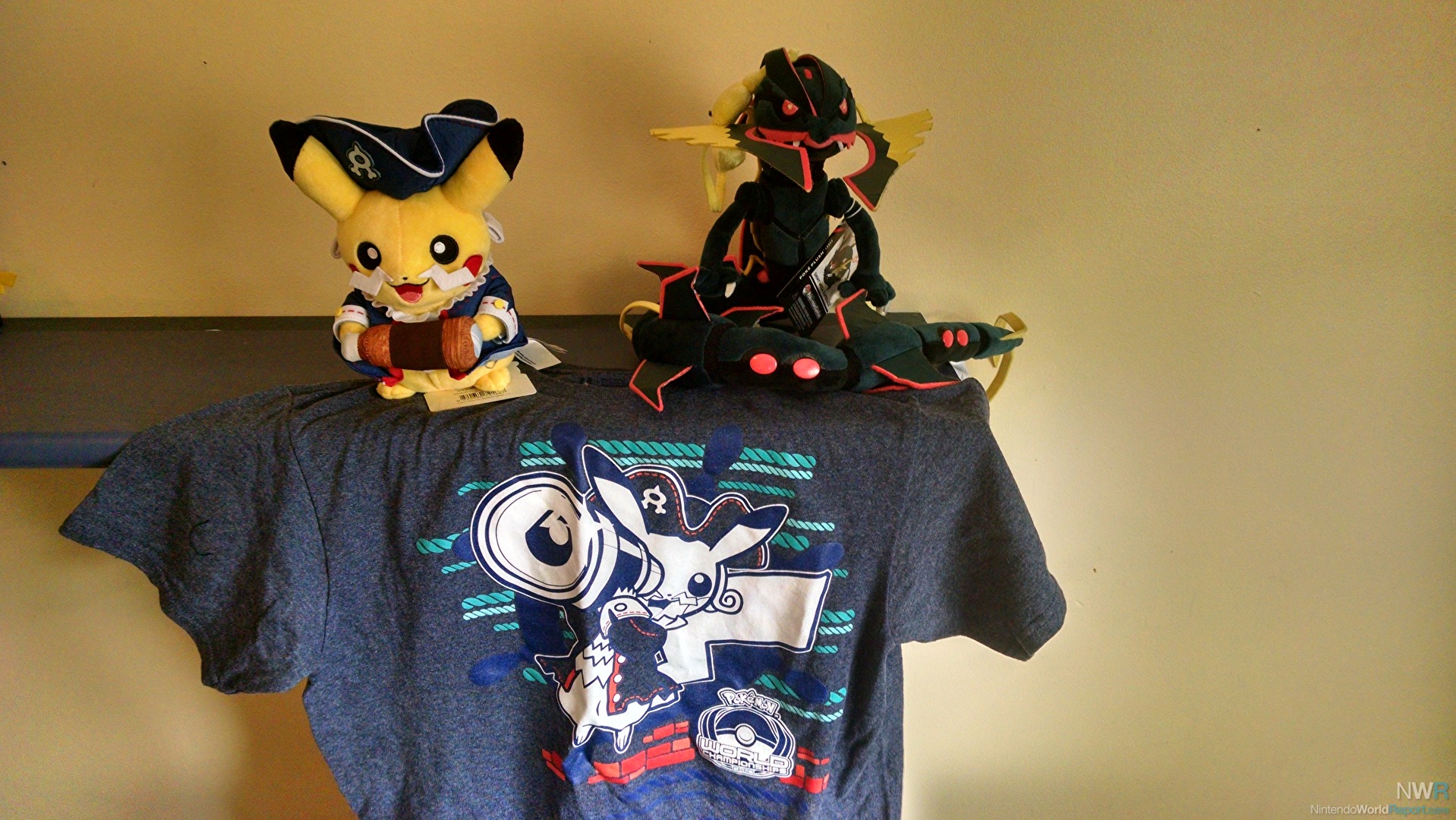 I bought a Pokémon Center shiny plush Rayquaza ($35), a 2015 Pokémon World Championships shirt ($20), and a 2015 Pokémon World Championships Pikachu plush ($20). The build quality is nice, and like I said, it was something worth doing once.
Pokkén Tournament came after that, and you can read my impressions of the game here. It is a very fun game, and I'm excited to see what a fully-featured home console version will look like. Also, big shout-out to the PR people for Pokémon, who got us into a Pokkén demo within two hours of the announcement and let us take as many pictures and videos of everything as we wanted.
As I don't have any cards and didn't have Omega Ruby at my apartment, I didn't end up playing this weekend. I was there explicitly to watch, enjoy the festivities, and talk to people, so after talking to a couple more people and watching some of the matches, I got lunch and went home.