Alex recounts what he did during this global, cultural, Boston event.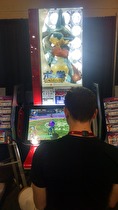 This year, I went to the 2015 Pokémon World Championships. That kind of sounds like a boring way to start this off, but that simple statement still leaves me in a bit of disbelief. It's not every day that the World Championships for one of your favorite video games ever shows up 20 minutes by subway from your apartment, and to be frank, I didn't realize that the event was in Boston until about a month ago.
More than that, by the time we straightened out press access and my final plans to be there, I had no idea what to expect nor any idea as to how we would cover it. The fact that I was there was so unexpected in itself, and all we had to go off of that there would be announcements was a fan hunch. So, my game plan? Have a good time, talk to people, and pay attention.