Spyro fans might remember Cynder, but fans of silly names will now remember Chop Chop and Ghost Roaster.
The Undead group has an old Spyro favorite with Cynder, who appeared as a villain and later a hero in earlier games. Also, they have Chop Chop, Ghost Roaser, and Hex. Ghost Roaster is so far only available with the Darklight Crypt Adventure Pack.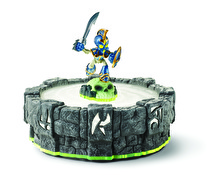 Chop Chop
Type: Undead
How to get: Individual, 3-Pack (w/ Bash and Eruptor), Legendary 3-Pack (w/ L. Bash and L. Spyro)
Variations: Legendary Chop Chop, Gold Chop Chop
Abilities: Sword Slash, Arkeyan Shield
Chop Chop is a skeleton who uses a sword and a shield to fend off enemies. He is one of the better defensive characters in the game, thanks to his shield.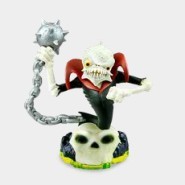 Ghost Roaster
Type: Undead
How to get: Darklight Crypt Adventure Pack
Variations: None
Abilities: Chain Whip, Skull Charge, Ectoplasm Mode
Ghost Roaster is a ghoul who can turn invisible and also use his skull and barbed tail to attack enemies.

Cynder
Type: Undead
How to get: Individual, 3-Pack (w/ Lightning Rod and Zook)
Variations: Toy Fair 2012 Cynder, Crystal Cynder
Abilities: N/A
Cynder was a villain in an earlier Spyro game until the friendly dragon freed her. Now, she seeks to redeem her past using her nefarious powers of shadow and electricity.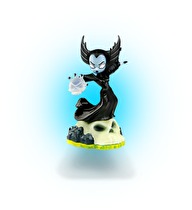 Hex
Type: Undead
How to get: Individual, 3-Pack (w/ Zap and Dino-Rang)
Variations: Pearl Hex
Abilities: N/A
Hex is a dark elf who can cast spells, such as one where skulls rain down on her opponents.