A dragon, a yeti, and a lobster make up the other Water creatures.
Gill Grunt might be the Water type that most players use, but Zap is the other available Water type. Slam Bam and Wham-Shell, in all their -am glory, are currently unavailable.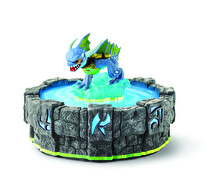 Zap
Type: Water
How to get: Individual, 3-Pack (w/ Hex and Dino-Rang)
Variations: Glow Zap
Abilities: Electric Bolt, Water Surge, Electro-Slime
Raised by electric eels, Zap is a dragon who can use water and electricity to nullify his foes. Along with electrical water surges and lightning bolts, Zap can also leave behind a trail of water that becomes an electrical current if anyone walks in it.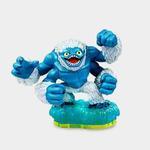 Slam Bam
Type: Water
How to get: Empire of Ice Adventure Pack
Variations: None
Abilities: N/A
Slam Bam is a four-armed yeti. Awesome, right? It gets better. He surfs and eats snow cones. Also, he uses his four arms to beat up baddies.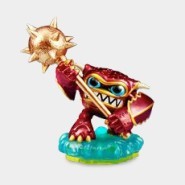 Wham-Shell
Type: Water
How to get: N/A
Variations: Crystal Wham-Shell
Abilities: N/A
Wham-Shell is a mace-wielding lobster who is angry that his home was attacked by trolls looking for oil. So, his fierce battle tendencies are justified.