Get ready to "erupt" your "flames" and get "sunburn."
The Fire brigade consists of a variety, ranging from the slow-moving Eruptor to archer-esque Flameslinger.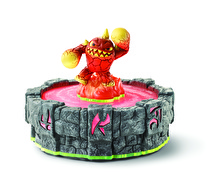 Eruptor
Type: Fire
How to get: Individual, 3-Pack (w/ Chop Chop and Bash)
Variations: Silver Eruptor
Abilities: Lava Lob, Eruption
Eruptor, a lava monster, burps a whole lot. When he does, he usually emits fire, which he can also lob at opponents for massive damage. In addition, he can 'erupt' and send out lava all around him.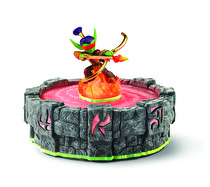 Flameslinger
Type: Fire
How to get: Individual, 3-Pack (w/ Drobot and Stump Smash)
Variations: Gold Flameslinger
Abilities: Flaming Arrows, Fire Dash
Flameslinger is a cocky archer who wears a blindfold to prove how awesome he is. He also has fire powers, so he shoots fire-tinged bows and has boots that leave a blazing path in his wake. If you can make a circle around a bad guy, they get totally fried.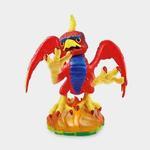 Sunburn
Type: Fire
How to get: Dragon's Peak Adventure Pack
Variations: None
Abilities: N/A
Sunburn can breath fire and teleport. He c