In a few words, Iwata provided quite a lot of information on Nintendo's newest business venture.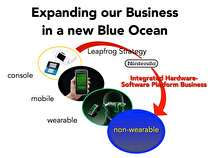 Note: This is the first in a series of articles examining the possibilities of a "Quality of Life" platform. This article focuses only on the facts Nintendo has presented thus far.
The lead-up to Nintendo president Satoru Iwata's investor conference had the sort of fevered expectancy that seems more befitting a major console announcement than a quarterly financial report. Granted, the situation didn't seem all that different. In the previous week, Nintendo had announced a staggering projected 35 billion yen loss for the fiscal year ending in March. The hum of analysts, journalists, and social media all seemed to have the answer for Nintendo's salvation: make mobile games, or become a third party, or replace the Wii U, or stay the course. A consensus on the way out was the furthest thing from reality.
It would be wrong to say Nintendo punted. Some information was provided on their future plans for Wii U, and there was a fairly limited --but significant-- discussion on Nintendo's perspective on mobile devices. However, the biggest announcement Nintendo made was the launch of entirely new division of their business: "Quality of Life improvement" tools.
Before diving into theorizing about what Nintendo has planned, it's worth reviewing the very limited information Nintendo offered.
This is not software for an existing piece of hardware
This is a new division of the company, and not a pivot away from their core business ("Dedicated Video Game Platforms...Will Continue to be Our Future")
This new division of the company will be producing its own "platform"
Their product will not be "wearable"
Their product will begin with a focus on heath, can expand outwardly
Details will be announced in 2014 with an eventual release in 2015
The basic announcement can be paraphrased as follows: "Nintendo has created a division to develop a new platform that will focus on offering 'Quality of Life' enhancing software via a new platform, beginning with - but not limited to - a target on educating people to lead a healthy lifestyle."
Obviously, Iwata did not provide much information, and as a result there are a few questions that need to be answered. Why does this new division require its own "platform?" Is the term "platform" synonymous with hardware? What kind of "awareness" are they looking to provide? What is the market potential here?
Before attempting to answer why Nintendo needs a third "platform," it important to define what constitutes the term. During the same presentation, Iwata explicitly discusses the concept of "platforms." The primary thrust of his comments were that shifting from distinct hardware generations to account-based interactions somehow manifestly changes what constitutes a platform. That isn't to say he was suggesting Nintendo will move away from generational hardware releases, but rather that unified accounts will produce consistent interactions with Nintendo that somehow change the generation-to-generation nature of the video game industry.
With respect to smart devices, Nintendo intends to move user interactions that can be done on smart devices in that direction. So, to some extent, it is a reasonable conclusion that the Quality of Life "platform" in question is a piece of hardware that does connect with Nintendo Network IDs and is not software for existing smart devices - although it may interface with them. He explicitly cited Nintendo's control over both the hardware and software as a major asset. Iwata also stated that the QoL Platform is "non-wearable," which is both an acknowledgement of the upsurge in visibility those devices have had achieved recently and tacitly confirms that this is a device of some configuration.
So why, then, does this Quality of Life platform need to be on a distinct piece of hardware? Here, Iwata offers no details. There are a two potential reasons that make a lot of sense, and they will be explored in more depth in a later article. One likely reason is that Nintendo wants to establish a totally independent revenue stream from their video game division, and that they desire for it to not be impacted by the needs of their video game division. An equally likely option is that neither of their current hardware offerings (3DS, Wii U) are capable of performing the tasks Nintendo needs this new QoL platform to do.
So what do they want this platform to do? This is, of course, what will dictate the success or failure of the platform, and indeed this entire new business Nintendo is launching itself into. Iwata spoke of software to boost "awareness" of healthy living. At the most basic level, we know it will run dedicated software. Nintendo, of course, has made previous forays into this field. Wii Sports, Wii Fit, Wii Fit Plus, and similar products have all featured some form of fitness-focused content. Additionally, Nintendo's "Touch Generations" line has featured multiple products that can be classified as "Quality of Life" focused, and indeed Iwata pointed out some of those products while discussing Nintendo's vision for this Quality of Life platform.
The last question: why is Nintendo pursuing this new business? Iwata's own words offer some hint. "We strive to promote our existing strategy of expanding our user base even further... our QOL-improving platform will attempt to create an environment in which we can expand the population of those who are conscious about their health and use that expansion to expand Nintendo's user base." Nintendo views this as a logical extension of the "Blue Ocean" strategy they laid out during the lifespan of the Nintendo DS and Wii. How they intend to do this will drive the design of this new platform. As such. some theories will be included alongside the discussion of what they want this new platform to do. But, in short, they see the chance to make money.
Nintendo found itself in a position of explaining how it would return to profitability. People wanted to know if they had plans to "save" the Wii U, or move to mobile platforms, or fundamentally change how they view their role in the video game industry. Instead of offering meaningful answer to those questions ("DS Virtual Console and a loyalty program," "No," and "We do not," respectively) they instead unveiled an entirely new business. While they didn't offer much information, the details they did provide can give some insight.
With all the facts out of the way, it is time to start coming up with theories ranging from conservative to crazy. Please check back for future articles that will attempt to answer the big outstanding questions about Nintendo's Quality of Life platform.