Season 5's got a fresh new look, with the same great RFN taste.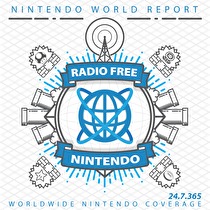 Subscribe via iTunes (Please rate and review, too!)
Episode 440 is the start of Radio Free Nintendo: Season 5. While Jonny's departure is still fresh, Jon, Gui, and new host James are joined by RFN's (sort of) newest member - Mr. Greg Leahy.
While change may be in the air, RFN still starts the way it always has - New Business. Greg kicks off the show, having just recently acquired Splatoon, with a fresh perspective on Nintendo's online paint-shooting, squid-jumping, kid-being game. Jon also has Splatoon impressions, giving his take on the game's Tower Control mode. Gui continues the Squid Parade with his thoughts on the latest Splatfest (Team Hot Dog got robbed) before getting the show out of the ink with his thoughts on Never Alone, a puzzle platformer that explores the culture of Alaskan Native peoples. James wraps up New Business with his thoughts on Uncharted Waters: New Horizons, Koei's 1994 sailing game set during the Age of Exploration. You can see more of that here.
After the break it's time for Listener Mail. First up is a new question about NX: has it inspired more speculation than previous Nintendo consoles? Next, a very special listener wants us to talk more about Quality of Life, and if its still a thing. Our third question asks for a look behind the curtain, why does RFN tend to cut discussion of non-Nintendo games a bit short? Lastly,in light of Nintendo's termination of Chris Pranger (following his less-than-flattering apperance on another podcast), a mysterious listener wants to know if Nintendo is too private and if there's any reason to think they're going to change anytime soon.
If you have a question for our intrepid foursome, or just a topic you want us to talk about it, you can send let us know right here.
This episode was edited by Guillaume Veillette. The "Men of Leisure" theme song was produced exclusively for Radio Free Nintendo by Perry Burkum. Hear more at Bluffs Custom Music.