GameCube
Super Mario Sunshine
Now Mario's packing a water-filled punch! After being accused of vandalizing Delphino Isle, our favourite plumber is sentenced to cleaning up all the mess!
Equipped with the FLUDD system, Mario's now able to do all new moves which he'll need to explore all areas of the island.
Console Elite Four: Your Most Important Nintendo Games: From the GBA to the DS
Our staff's top picks for the most important games for each console continues....
The Blue Coin Cast: Episode 1
Xander and Brett take a deep dive into one of the most infamous Mario games of all time in a brand new podcast!...
by James Jones, Xander Morningstar, and Brett Posner-Ferdman - September 30, 2019

Our 2015 Nintendo Predictions: Alex Osborn, Contributing Editor
Delays, cancelations, HD remakes, and more crazy guesswork....
by Alex Osborn - January 12, 2015

NWR 15th Birthday: The Best Game of the Past 15 Years: Sweet Sixteen Mushroom Kingdom/Hyrule Regions
Galaxy. Wind Waker. Skyward Sword. This region's got some top dogs left....
by Neal Ronaghan - March 18, 2014

NWR 15th Birthday: The Best Game of the Past 15 Years: Round 1 - Mushroom Kingdom Region Part 2
This region's top games are older, with Advance Wars and Prince of Persia leading the field....
by Neal Ronaghan - March 11, 2014

What's Old Is New - The GameCube: Super Mario Sunshine
Zack plays the Mario game that came after Super Mario 64 but before Galaxy....
by Zack Kaplan - November 20, 2013

Nintendo Launch Windows Through the Ages
Every system's launch window is just shy of a year, right?...
by Neal Ronaghan - November 1, 2013

The Music of GameCube: Page 3
TimeSplitters to Tetris to Wario to Wind Waker....
by Nate Andrews - November 17, 2011

The GameCube 10: Super Mario Sunshine
There's something dirty on Isle Delfino......
by Andrew Brown - November 13, 2011

Screens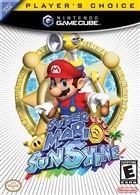 Genre
Action
Developer
Nintendo
Players
1