This region's top games are older, with Advance Wars and Prince of Persia leading the field.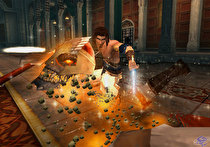 Now that we're done the Wild Card Round, it's time to get to the fun stuff. Round 1, aka the Round of 64, features a ridiculous 32 match-ups between 64 deserving games. We've split them all into four regions, led by the highest-rated games (according to Nintendo World Report and MetaCritic) of the entire batch: Metroid Prime, Super Mario Galaxy, The Wind Waker, and Resident Evil 4. Go ahead and vote for these match-ups and show your colors in the discussion. What's your Cinderella game?
Voting ends on March 15 at around 1 a.m. ET. On March 16, we'll have Round 2, with 32 games and 16 match-ups, ready to go...
---
Tales of Symphonia (11) vs. Super Mario Sunshine (6)
Tales of Symphonia: It's hard to use "iconic" without sounding completely cliché, but Tales of Symphonia is pretty much the poster child of the Tales series. Released for the GameCube in 2003, it was one of the first few Tales games to see a US release and one of the biggest and best RPGs for its system. It was also one of only three Tales titles to see a direct sequel, Dawn of a New World for the Wii in 2008. This game had an extremely extensive amount of content with two worlds with dozens of side quests in both. A real-time battle system and on-screen enemies made for a fast-paced dungeon atmosphere that never left you bored and praying the end. And to top it off, the game featured top-notch voice acting from some of the industry's best.
Super Mario Sunshine: The 2002 follow-up to Super Mario 64 on GameCube might have not lived up to the pure innovation of the N64 classic. Super Mario Sunshine was still, however, a finely tuned and excellent Mario game with a novel new mechanic with the F.L.U.D.D. and a unified island theme. Throw in a controllable Yoshi and some stellar level designs, and Sunshine stands up next to its 3D Mario siblings with enough aplomb to be a classic. Now here's hoping for a Wii U HD treatment much like Wind Waker. That'd be so cool, because clean is better dirty and dirty's meaner than clean.
---
Castlevania: Dawn of Sorrow (WC) vs. Prince of Persia: The Sands of Time (3)
Castlevania: Dawn of Sorrow: This early DS game is a sequel to the best of the GBA's Castlevania games—Aria of Sorrow. It is surprisingly similar, in fact, and feels more like Aria of Sorrow 2.0 sometimes, but that's okay, because Aria of Sorrow 2.0 is still the best Castlevania game on the DS. The quality of the graphics and the music still stand out among the system's best. The soul-catching system is as addictive as ever and there's an interesting weapon-crafting system. It even has a second playthrough that is in line with the series history of awesome second quests.
Prince of Persia: The Sands of Time: A 3D reboot of the Apple II version from 1989, The 2003 release of Prince of Persia: The Sands of Time has been over the years praised for its superb story, seamless controls, and perfected mechanics. Acrobatics, well-timed leaps, and other nifty maneuvers are essential for defeating foes and traversing the palace. And with the rewind ability to correct your mistakes, it guaranteed a great time. It's no wonder this is loved by so many. While the series might have gone off the rails, what with the mediocre sequels and that movie with the ostrich race, The Sands of Time still stands tall as one of the best games of its era, and who knows, maybe of the past 15 years.
---
Professor Layton and the Unwound Future (10) vs. New Super Mario Bros. Wii (7)
Professor Layton and the Unwound Future: The 2010 release of the third Professor Layton on DS is another compendium of puzzles alongside a ridiculous story, this time involving time travel, explosions, and much more. There's a Future Luke! For real! All of that by itself might have been enough to get Unwound Future into the mix here. However, Unwound Future has one of the most gut-wrenching finales in a video game. If you played it, you know what we're talking about. If you haven't, oh man. It's so damn touching.
New Super Mario Bros. Wii: In 2009, we didn't know what we really wanted was some crazy 2D platforming multiplayer. Luckily, New Super Mario Bros. Wii was there to show us the light. In addition to being a totally fun and awesome 2D Mario game, New Super Mario Bros. Wii featured four-player mayhem that, while chaotic, was an incredible twist on a familiar formula. The sheer joy of throwing a friend off a cliff after picking them up made the times said friend stole a power-up from you tolerable. Also, the finale was pretty incredible.
---
Nintendo Land (15) vs. Advance Wars (2)
Nintendo Land: Probably the best display of the use of the Nintendo Wii U GamePad so far by Nintendo, Nintendo Land is a set of single-player and multiplayer games that is simple enough for casual gamers, and hits the right nostalgia notes for Nintendo fans. Nintendo Land was a launch title for the Wii U in November 2012 that might not have been the Wii Sports everyone wanted, but it was still a really fun game. The 12 themed mini-games/attractions were all interesting in their own right, calling to mind the great Pac-Man Vs. in multiplayer mayhem and bringing back the fun of things like Balloon Trip and F-Zero.
Advance Wars: This 2001 Game Boy Advance release finally brought the beloved Japanese series over to the West. Finally, the fabled strategy RPG series was making its way into our hands and boy, was it worth the wait. An in-depth tutorial and simple mechanics made it easy to get into, even for genre novices. While being both single and multiplayer, this turn-based tactics game made its way to the near top of multiple GBA rankings for its deep combat, wonderful designs, and its near-infinite replay value. If you have seen this series anywhere, please let us know. We're about to file a missing persons report with Nintendo because man, it'd be great to have a new Advance Wars on 3DS, right?