Metroid vs. Mario in two match-ups. A Link Between Worlds vs. Melee. This region could be a bloodbath.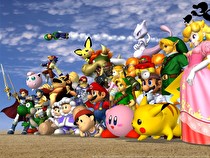 After some great games fell to likely greater games, we've halved the group of 64 into 32. Now, the remaining 32 games duke it ou even more. Place your votes now and back your horses, be they Epona or Yoshi. Remember: We've split them all into four regions, led by the highest-rated games (according to Nintendo World Report and MetaCritic) of the entire batch: Metroid Prime, Super Mario Galaxy, The Wind Waker, and Resident Evil 4. All four top seeds are still alive. Go ahead and vote for these match-ups and show your colors in the discussion. What's your Cinderella game?
Voting ends around 12:01 a.m. ET on March 18. Later that day, we'll have Round 3, with 16 games and 8 match-ups, ready to go...
---
Metroid Prime (1) vs. New Super Mario Bros. (9)
Metroid Prime: Among the many honors heaped upon the beloved 2002 GameCube game Metroid Prime, one stands out: it was NWR's Game of the Decade. It is a deserving title, too, successfully translating an essentially Super Metroid world map into not just 3D but first-person to boot. While the GameCube control scheme took some getting used it, once it clicked, Metroid Prime was unlike any other experience. The Wii's Metroid Prime Trilogy improves on perfection with the excellent control of Metroid Prime 3. Samus' first 3D adventure is the one to watch—the real critical darling—in this tournament.
Games Defeated: Pokemon Gold/Silver (16)
New Super Mario Bros.: The game features an ironic title considering how little is done to change the Mario formula, but it remains a classic and is a must play on the Nintendo DS. Released in 2006, it diverges from the now-normal 3D gameplay of Mario platformers and shifts back to the 2D gameplay found in the original Super Mario Bros. Some of the new power ups include the big mushroom item that has you destroying everything in your sight, as well as the mini mushroom that will allow you to access small pathways that normally you couldn't reach. Although it feels strikingly familiar, New Super Mario Bros. brought the classic gameplay of past Mario games and brought it to the Nintendo DS in fine fashion.
Games Defeated: WarioWare: Twisted! (8)
---
The Legend of Zelda: A Link Between Worlds (5) vs. Super Smash Bros. Melee (4)
The Legend of Zelda: A Link Between Worlds: The 2013 return to Link to the Past's Hyrule has everything – an adventure starring a time-tested classic character, fantastic new gameplay mechanics that give the game a whole new feel, and some awesome combat and puzzles. This game has it all. You want items? We got all your items right from the beginning. You want bombs? We have a bomb salesman that RAPS AT YOU. How's that for a funky fresh game?
Games Defeated: Kid Icarus: Uprising (12)
Super Smash Bros. Melee: Everyone's heard about the Super Smash Bros. games. Chances are most people have played them at one point, too. The 2001 GameCube game Super Smash Bros. Melee was not only the second installment of this legendary franchise, but some would call it the best in the franchise so far. This game is home to tournaments of champions, would-be heroes, and friends just hanging out on a lazy Sunday afternoon. Super Smash Bros. Melee helped define the franchise and solidify its hearts in everyone's hearts and minds. Plus, you can watch your favorite characters beat the snot out of everyone else.
Games Defeated: Mario Kart Wii (13)
---
Metroid Prime 3 (6) vs. Super Mario 3D World (WC)
Metroid Prime 3: Every Prime game was unique, and the 2007 Wii game was built specifically for Nintendo's new system, making use of motion controls and the pointer. Corruption just looks phenomenal, with excellent music and sound design to boot. A few new gameplay mechanics—Samus' "Hyper Mode" and riding around in the Gunship—made for some memorable experiences, but once again, it's the world-building that takes center stage. Samus visits a reptilian civilization, a steampunk cloud city, and even the Space Pirate homeworld, all in an effort to track down three fellow bounty hunters and stop Dark Samus, whose power has grown considerably since your encounter at the end of Metroid Prime 2: Echoes.
Games Defeated: Mega Man 9 (11)
Super Mario 3D World: After making it through the Wild Card Round, the beloved 2013 game Super Mario 3D World seeks to further its win streak. It was Mario's big 3D foray into HD graphics on the Wii U. Featuring the adorable cat suit and tons of content, this game brought four-player mayhem to a new style of Mario, ruining friendships all the while. If this game loses in this round, there is a chance that it invalidates this entire voting process, and the NWR staffers who decided this wasn't one of the four best games of 2013 might have to stand trial.
Games Defeated: The Legend of Zelda: Majora's Mask (3), Luigi's Mansion (WC)
---
Donkey Kong Country Returns (7) vs. Perfect Dark (2)
Donkey Kong Country Returns: The Donkey Kong Country came back in a big, bad way with this 2010 Wii release. Retro Studios' first foray into 2D platforming might just be one of the best of its kind on the Wii or maybe even any system ever. Returns features a wide variety of inventive levels that will challenge you to your core. Outside of some iffy motion controls, there isn't much to complain about this instant classic.
Games Defeated: Ghost Trick (10)
Perfect Dark: Rare's 2000 N64 first-person shooter has been referred to as the "spiritual successor" to GoldenEye 007, as it uses a modified version of the engine. With gameplay similarities, Perfect Dark follows secret agent Joanna Dark. Her mission? Stop a conspiracy by an evil corporation, dataDyne. This sci-fi shooter includes an in-depth single player campaign with the ever beloved GoldenEye-esque multiplayer making it a must have for the 64. Outside of some slowdown, Perfect Dark is still one of the best local multiplayer experiences in the first-person shooter genre.
Games Defeated: Jet Force Gemini (15)