Epic Mickey is an Epic Migraine.
Current Backlog Size: 42 Wii games... sort of
Goal: Complete all those nagging 100% save file challenges.
Progress Since Last Update: Project Zero 2, Epic Mickey, two Smash Bros Stickers
Two games down. Kind of. I've now completed the ghost list in Project Zero 2, completely upgraded the Camera Obscura and all the collectible bonus parts, and seen four of the possible endings in the game. The sad thing is, there are still two endings left! With the unlockable bonuses, playing the game through again should be a breeze - I'd probably be able to churn out an extra two playthroughs within three or four hours each. At some point.
Needing a break from the game after playing the same scenarios over several times already, I jumped onto Epic Mickey, the game Carmine challenged me to play next.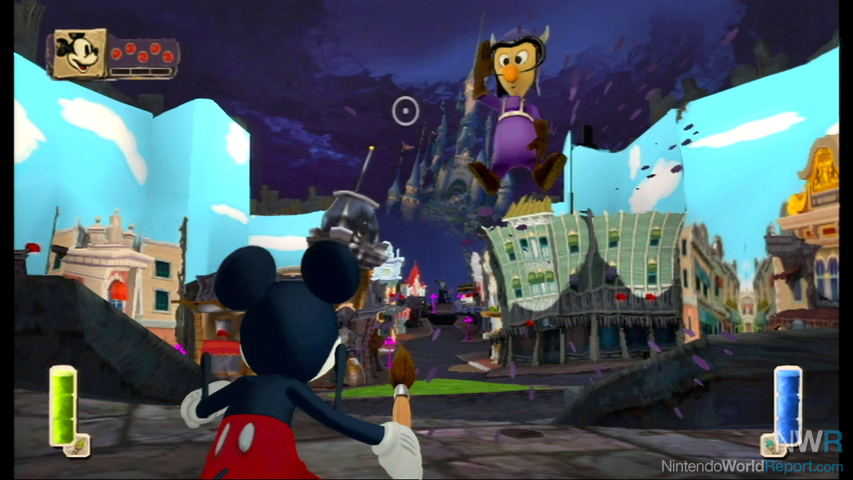 After playing through Epic Mickey once, I have to say I completely agree with Neal's review of the game. How a game can have such a great concept and interesting storyline and manage to squander it so... shall I say, epically, is mind-boggling. The fetch quests were repetitive and relentless, wrestling with the controls and camera was a constant lesson in frustration, and on more than one occasion I was dismayed to find out my curious exploration had blocked off the path I'd just come from, inadvertently sabotaging the unfinished quest I was trying to complete. This game had the makings of a creativity-fueled collectathon adventure the likes of Banjo-Kazooie, but denying players the ability to backtrack through levels and areas and even rooms is a terrible design flaw. Despite all this, I did enjoy the game. The old Disney references were cool and Oswald is a pretty entertaining character. I'd like to see Disney bring him into a new movie or series now that his license has been reclaimed by the company.
At the end of my first play through, I was at 70/105 collectible pins to find in the game, 34/36 collectible film reels (which unfortunately are just items and can't actually be watched) and only 3 cutscenes left unseen in the game. You guessed it - I'm tempted to go back and find the rest of the stuff I missed. Why am I so obsessed with finishing every checklist in every game I play? Not even I can answer that. I may put that off for now though, there's plenty more on my backlog to explore!

With Epic Mickey behind me, I'll get back into the ghostbustin' groove - I have a half-finished file on Zero: Mask of the Lunar Eclipse, also known as Fatal Frame 4.