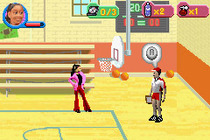 More licensed games are manifest in this set of grave GBA games.
That's So Raven (Ben Kosmina, November 12, 2004)
"Raven's line of defence includes dumping spring water on the floor to make people slip and fall over, swinging her handbag around to deflect objects that are being thrown at her, and SPRAYING PEOPLE IN THE FACE WITH PERFUME. Am I the only one who finds that a bit odd? I can just hear the Disney exec saying 'We don't want anything violent. Make her blind people with perfume.'"
that's SO Raven (that's how its written) was a mid 2000s Disney Channel show staring the youngest Huxtable child as a psychic teenager (she was early to mid-twenties at the time) who ruins the education of her peers. Ben's review breaks down the person Raven and he concludes that she sucks. Find out why in his review.
FUN FACT: This game got a sequel. We never reviewed it, otherwise it would probably be listed here.
Spider-Man 2 (Ty Shughart, July 27, 2004)
"Spidey does some of his trademark wisecracking taunts, except, no, he doesn't. The dialogue in this game is harder to read than an L. Ron Hubbard book that's covered with scorpions and anthrax. Sure, suggesting similarities between fish bowls and Mysterio's head isn't too bad, but saying 'well, you'll be getting plenty of attention from now on, behind bars!" is beyond cheesy. It's just horrible. And if I were the Shocker, I'd want to kill Spidey too, if he called me an 'oven-mitt head.'"
If Nintendo World Report isn't here tomorrow, it is because the Scientologists sued us for making fun of L. Ron. Ty writes Spidey a love poem and then discusses why this game bucked the trend of GOOD Spider-Man games. License be damned.
Hot Potato (Jonathan Metts, August 28, 2001)
"The 'mission mode', in which you have to take out a certain breed of potato in addition to just clearing a path through the street and surviving, starts out slowly enough for you to learn the gameplay basics..."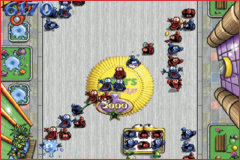 This is the first review we feature from someone who is still a member of the staff. Dr. Metts has been here so long he actually became a real doctor. While he doesn't have anything particularly scathing to say about Hot Potato, he actually finds the game to have some redeeming value, I couldn't resist including the phrase "certain breed of potato."
I asked Jonny about this game, and after his memory was jogged he used words to describe it that I simply cannot repeat here. Suffice to say, he thinks it's weird. By his own admission, this review probably makes no sense.