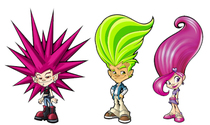 One thing you might quickly notice is that many of these games are reviewed by the same people. Historically, a handful of staffers have actively requested "the worst" games. This is their fault...
Trollz: Hair Affair (Jeff Shirley, December 8, 2005)
"I have been thinking of coming up with a suitable formula for shovelware. The number of corporate logos I see before the game actually begins is directly proportional to the amount of times I will find myself wanting to vomit and inversely proportional to the amount of fun I'll have."
Jeff, as you might surmise from this quote, reviewed a lot of questionable licensed games. Trollz, which given the misplaced z should immediately inform you that Ubisoft is the responsible party, had four such screens. A collection of dreary mini-games, Trollz shares the title of "lowest GBA review score" with a few other entries on this list. You can read the full review for the mind-altering plot and Mr. Shirley's dissection of the Trollz economy.
Fear Factor: Unleashed (Jeff Shirley, March 14, 2005)
"I feel compelled to put the game down and not play video games anymore. If this were the first game I had ever played, I would never play video games again. I might watch some TV though. And I might happen upon Fear Factor on TV. In a sense, this is the first time I ever encountered a video game made with the intention of drawing me away from video games to something else."
Jeff's second entry concludes with the above concern that Fear Factor on the GBA might actually be a CIA-styled conspiracy. For those of you who don't remember, Fear Factor was an NBC reality show where contestants participated in stupid stunts for cold hard cash. While this game doesn't feature people laying in a clear box while crickets are dropped on them, it does feature dodgy mini-games! Read Jeff's review for a play-by-play of...his playthrough.
Nyko WormCam (Mike Hrusecky, December 17, 2002)
"Whether it should even really be on the market is questionable. There are computer webcams on the market for half the price that offer picture quality far greater than Nyko's GBA accessory. Nyko should have opted for a more viable solution, even if it meant increasing the cost of the unit and reducing battery life.
Consumers should absolutely wait for Nintendo's own camera coming in 2003."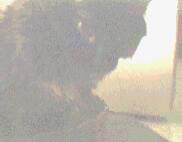 That would be a longer wait than he expected. Nintendo never actually brought a camera to market, so Nyko's WormCam is, by default, the best digital camera on the GBA. This is not exactly a distinction worth merit. It is interesting to point out that the WormCam, which is precariously perched atop the GBA, would be rendered unusable by the GBA SP only a few months later. Read the review to see Mike and his girlfriend in glorious .0000001 megapixels.
No logical reason is offered as to why this is called the "WormCam" except Nyko was known for its popular WormLite on the original Game Boy. It has nothing in common with the ground grubbers.