Another week, another giveaway! This time you could be the lucky winner of a brand new Charizard amiibo! Congratulations to the winner!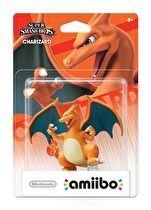 Welcome to Week 2 of our Summer of Amiibo giveaway!
Every week we'll run a different contest for a different Amiibo prize. It might be a caption contest. You might need to answer trivia. Or you might need to tune into a podcast for the secret keyword for that week's random drawing! Make sure you check back each week to enter into that week's particular contest, and to get a sneak preview at the Amiibo prizes to come! (Winners of previous weeks of the NWR's Summer of Amiibo event are not eligible for subsequent prizes.)
This week's prize: Charizard! This week's contest: Random drawing requiring the "secret password" to be revealed this Sunday in episode 434 of the Radio Free Nintendo podcast!
Contestants will need listen for the password to be announced during that podcast, then e-mail the (not-so-secret) phrase to contest@nintendoworldreport.com with the subject line "Summer of Amiibo Week 2" before next Wednesday. A winner will be selected at random from the qualifying entries!
Full List of Prizes:
Week 1: Diddy Kong Amiibo - Trivia Contest!
Week 2: Charizard Amiibo - Secret Password on RFN
Week 3: Zelda Amiibo - ???
Week 4: Luigi Amiibo - ???
Week 5: ??? - ???
Week 6: ??? - ???
Week 7: ??? - ???
Week 8: ??? - ???
Week 9: ??? - ???
Week 10: ??? - ???
Week 11: ??? - ???
Make sure to catch the latest episode of RFN, and stay tuned for next week's giveaway!
P.S. Congratulations to last week's winner! You've already been contacted by e-mail!
Update: Congratulations to this week's winner! You've been contacted via e-mail! Everyone else, look for the Week 3 contest coming up really soon!