We're giving away an Amiibo every week of summer! Welcome to Week 1: Diddy Kong! UPDATE: Congratulations to the winner!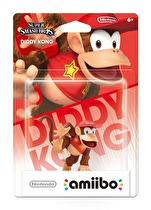 UPDATE: Week 1 is over! Be sure to check out Week 2 for more chances to win!
Did you know there are almost as many different Amiibo figures released right now as weeks of the year? The Amiibo craze shows no signs of stopping, so we here at NWR want to give everyone a chance to get in on the fun with an entire summer of Amiibo giveaways!
Every week we'll run a different contest for a different Amiibo prize. It might be a caption contest. You might need to answer trivia. Or you might need to tune into a podcast for the secret keyword for that week's random drawing! Make sure you check back each week to enter into that week's particular contest, and to get a sneak preview at the Amiibo prizes to come! (Winners of previous weeks of the NWR's Summer of Amiibo event are not eligible for subsequent prizes.)
This week's prize: Diddy Kong! This week's contest: TRIVIA!
Did you know Diddy Kong has appeared in more than thirty Nintendo games? Place these games where Diddy Kong has appeared in order of release in North America, from earliest/oldest to latest/newest:
Donkey Konga
Donkey Kong Land 2
Mario Kart: Double Dash
Donkey Kong Country: Tropical Freeze
Donkey Kong Barrel Blast
DK King of Swing
Diddy Kong Racing (original version)
Then e-mail your ordered list of games to contest@nintendoworldreport.com with the subject line "Summer of Amiibo Week 1". A winner will be selected at random from the correct entries!
Full List of Prizes:
Week 1: Diddy Kong Amiibo - Trivia Contest!
Week 2: Charizard Amiibo - ???
Week 3: Zelda Amiibo - ???
Week 4: ??? - ???
Week 5: ??? - ???
Week 6: ??? - ???
Week 7: ??? - ???
Week 8: ??? - ???
Week 9: ??? - ???
Week 10: ??? - ???
Week 11: ??? - ???

Send in your entries for this week's contest, and make sure to keep an eye out for next week's giveaway!