by Donald Theriault - 11:23 am EDT
Discuss in talkback! Source: Actil
The newest title from the makers of the DJ Max games is going back to the portable realm.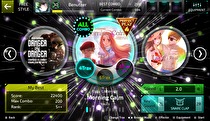 The Switch will be adding some more rhythm to its lineup this fall.
Superbeat Xonic will release for the Switch in October. First released in October 2015 for the PlayStation Vita, Xonic is developed by Nurijoy, who previously created the DJ Max series.
In addition to the over 60 tracks in the game by default, the Switch version will offer seven additional tracks for free as a download on release day.
Read more...