The rupees are strong with this one.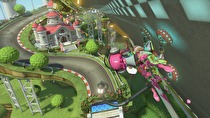 The close of the Japanese business day at midnight Pacific time / 3 a.m. Eastern saw the release of Nintendo's first quarter fiscal results for the year ending March 31, 2018. The results cover the period from April 1 - June 30.
Financial Indicators All figures converted to US for purpose of clarity, using market rates as of the current time of 111.874yen to US$1.
Operating Profit: ¥16.2bn (approx. US$145m)
Net sales: ¥154bn (~$1.376bn), 79% overseas
Download sales: ¥11bn (~$98.3m), +41% compared to this quarter last year
Profit of related companies: ¥3.286bn (~$29.4m)
Mobile revenue: ¥9bn (~$80m), +450% compared to this quarter last year
Hardware sales totals:
Switch: 1.97m in the quarter, 4.7m since launch.
3DS: 950k in the quarter, 67m to date
No changes in hardware projections from Nintendo.
Software sales totals:
Mario Kart 8 Deluxe: 3.54m copies
The Legend of Zelda: Breath of the Wild: 1.16m copies just of the Switch version, 3.92m Switch copies sold to date
ARMS: 1.16m copies
Fire Emblem Echoes: Shadows of Valentia: "Strong sales" but under 1m worldwide
The updated release schedule includes E3 announcements, with the mainline Pokémon RPG for Switch being "2018 or later" and Metroid Prime 4 "TBA". Xenoblade Chronicles 2 is also still listed as a holiday 2017 game in all territories.