For it's one, two, six hundred million from the old ball team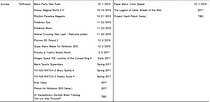 Nintendo released their financial results at the close of the Japanese business day earlier today, and some significant events led to a operating loss in the quarter.
The key financial indicators, with US conversions at current market rates:
Operating loss: 5.947bn yen ($57.1m)
Net profit/loss (including currency fluctuations): 38.299bn profit ($367.7m)
Hardware sales: 2.71m 3DS systems, 560,000 Wii U so far this fiscal year
Software sales: 19.23m 3DS, 8.3m Wii U
Related entity revenue (mostly Pokémon Go revenue): 12bn yen ($115m)
Download sales (year to date): 14.7bn yen ($141m)
Extraordinary income from sale of 45% of the Seattle Mariners: 62.7bn yen ($602m)
Notably, Nintendo has lowered forecasts for sales by 30m yen, operating income by 15m yen, and net income (with currency) of 35m yen.
Strong sales performers in the quarter included Kirby Planet Robobot selling over a million copies, Pokémon XY reaching 15.64 million combined to pass Pokémon Black and White, and Omega Ruby/Alpha Sapphire passing Heart Gold/Soul Silver with 13.18m units sold. Mario Kart 8 has also crossed the 8 million mark on Wii U.
The release schedule features no Switch information, but Devilish Brain Training is still listed for Europe and Project Giant Robot for all territories. Miitopia also lists a 2016 release date for Japan.
An earlier version of the story indicated that there were 2.71m 3DS systems sold in Q2, this has been corrected.