Plus a Miitomo update is coming.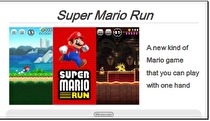 There's a lot of demand for Super Mario Run, and its release will be wider than ever.
Nintendo's investor meeting earlier today (Japan time) showed that over 20 million people have signed up for notification when Super Mario Run will go live in December, and that the rollout is planned for "approximately 150 countries".
The game will also use the Miitomo friend list - attached to a Nintendo Account - to build the friends list for multiplayer modes. To encourage adding to the lists, a Miitomo update will be coming soon that enables private messaging.