You'll be surrounded by Hardy Greninja.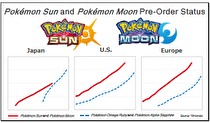 The biggest holiday title for Nintendo has a ton of early momentum.
Pokemon Sun and Moon's special demo, which released on October 18, has been downloaded over 3.5 million times in just over a week according to Nintendo's investor briefing. The download count has made it the fastest start of any 3DS demo since the system launched.
The briefing also showed that while Sun and Moon preorders are trending close to Pokémon Omega Ruby and Alpha Sapphire in Japan, they are tracking far ahead in North America and heavily so in Europe.