Releasing March 2017 still.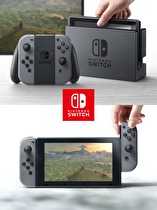 Nintendo has finally revealed the Nintendo Switch.
The video demo showed the system sliding into and being removed from a docking system hooked to a TV, with instant transition to a portable mode when removed. There are controllers called "JoyCon" that can be detached and used by multiple players or as a dual format for a single system. An optional Pro Controller will be available, and Switch systems can communicate with each other for multiplayer.
The video showed a Splatoon-like game, a new 3D Mario title, Breath of the Wild, a Mario Kart game, an NBA game and the remastered version of Elder Scrolls V: Skyrim from Bethesda. Konami, Electronic Arts, Bethesda, Epic Games, Atlus, From Software, Warner Brothers, Take-Two, SquareEnix (including Tokyo RPG Factory Co. Ltd) and Capcom are among the publishers with products in development.
nVidia have confirmed that they are providing a custom Tegra processor for the system.
The games will come on 3DS-style cartridges of indeterminate size.